Not my words!  Sadly, they could be the words of some current political leaders, but were said by Margaret Thatcher, Prime Minister of the United Kingdom in 1979. So this opinion of people living in economic poverty still prevails!  These leaders don't believe that globally all people living in poverty are weak, irresponsible characters, but they cannot understand that some people living in developed economies are living in poverty
ARE VINCENTIANS DOING ENOUGH TO ENSURE THERE IS THE PREFERENTIAL OPTION FOR THE POOR?
I BELIEVE THAT ECONOMIC POVERTY ISN'T A LACK Of CHARACTER;    IT'S A LACK OF MONEY
500 year old idea – based on a 2,000 year old encouragement from Jesus.  "You too go into my vineyard, and I will give you what is just." (Mt 20:4)
500 years ago, St Thomas More, Philosopher wrote Utopia, repeated by Martin Luther King, and extrapolated by Economist Milton Friedman – a simple idea – everyone should have a Basic Income Guarantee.
POPE FRANCIS CRITICISES TAX HAVENS, HUGE CORPORATIONS AND HIGH PROFILE INDIVIDUALS EVADING TAXES, also said –
"To emerge better from a crisis, the principle of subsidiarity must be implemented, respecting everyone's autonomy and capacity to take initiative, especially that of the least. All the parts of a body are necessary, as Saint Paul says, those that may seem the weakest and least important, in reality are the most necessary." Pope Francis
Creative accounting is seen as a joke, a clever ruse, rather than a corrupt evasion of responsibility to all of God's people.
  A FAIR LIVING WAGE IS A PRO-LIFE ISSUE.
"The poor you will always have with you"  John 12:8. How often we Vincentians quote these words of Jesus.  Are we accepting that poverty will always be with us, and therefore we will always have a role supporting the poor?  Harsh question Dee I hear you say! But really …….. does Jesus let us off the hook and imply that we shouldn't get too worried about tackling poverty and injustice because it's a losing battle. Should we calm down our revolutionary rhetoric and give up the cause? Do we still fight to eradicate poverty and find justice for all if poverty is inevitable?
YES IT IS OK TO TALK ABOUT FAITH AND MONEY – JESUS DID! 
Jesus, with his Jewish First Testament learning would have known:
"For the poor you will always have with you in the land. Therefore I command you, 'You shall open wide your hand to your brother, to the needy and to the poor, in your land" (Deuteronomy 15:7-11)
Here it's seen that the needy are noticed – AND you are exhorted to; "OPEN WIDE YOUR HAND"
Check out the Dauphin, Canada experiment, in 1974 for four years, until funding stopped.  An army of researchers amassed 2,000 boxes of research. 25 years later the statistics were analysed.
Dauphin results – people richer, healthier, school results, hospitalization rate decreased by 8.5%. Decrease in domestic violence, mental health complaints and people didn't quit their jobs. ONLY not working were new mothers and students who stayed in school longer.
Poverty is expensive!  The cost of child poverty in the USA is $500 billion each year – higher drop out rates and more crime = WASTE
The poor borrow more, save less, smoke more, exercise less, eat less healthily, drink more. The underlying assumption is the same – there's something wrong with them. If we could just change them. If they could only live their lives better – if they would only listen.
"In India for example, the sugar cane farmers pre-harvest have 14 points of IQ loss compared to post harvest. This is called –  "Scarcity mentality". People behave differently when they perceive things to be scarce.  It narrows their focus to their immediate needs – the bills that need paying tomorrow, the sandwich I'm dying for because I'm so hungry, the stress I Feel because I am pushed for time. It narrows your focus if you have a meeting in 5 minutes! Your long term perspective goes out of the window.  You are like a slowed up computer with too much to do.  Poor people experience this – crisis management forces you to make bad decisions – not because of lack of intelligence but anyone with this siege mentality would operate like this.
Poverty is not a lack of knowledge –education programmes do not work if not followed up by practical action. "Its like teaching someone to swim and then throwing them in a stormy sea" Rutger Bergman, TED TALK.
What can be done?  Modern politicians love the remedies such as sending reminders to pay your bills – a cheap solution that's a symbol of our modern era where we address the symptoms but ignore the underlying cause.
Are we "open handed" enough to lobby, protest and work for social justice?
Vincentian Partnership for Social Justice in Ireland believes this.  https://www.justicematters.ie/work/minimum-essential-budget-.htm
VPSJ working for social and economic change, tackling poverty and exclusion.  Its is a faith based NGO rooted in;
Belief in the dignity and potential of every human being
Commitment to working with people experiencing social and economic exclusion in order to bring about the change necessary for a more just and inclusive Ireland.
"The cost of keeping on their feet"
Since 2004, the VPSJ has undertaken work establishing the Minimum Essential Standard of Living (MESL) budgets for a variety of household types. It is highly influential in affecting Government policy.
Aidan Rooney, CM – Preferential option for the poor asks;
What systems do I participate in that keep people impoverished? The Catholic Social Teaching principle of the Preferential Option for the Poor can obscure the fact that systems, and sometimes people, are responsible for the poverty of others. What can I do?
Am I the type of person who doesn't question how the economy runs and how it works for the poor?
Have you considered who the economy is working for and sometimes works against the poor. https://www.facebook.com/640708126138737/posts/1382427871966755/
JUST IMAGINE HOW MUCH ENERGY AND TALENT WE WOULD UNCOVER IF WE GOT RID OF POVERTY ONCE AND FOR ALL!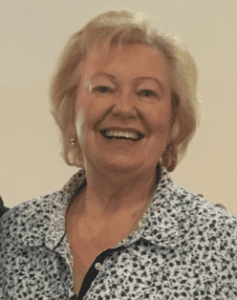 Dee Mansi is a lay member of AIC and Vincentian Collaboration Commission; a retired School Principal, Schools Inspector and Leadership in Education Lecturer. Dee is Irish, living in London with her husband and son, she travels in Europe and beyond.
Opinions expressed are the author's own views.