In this fifth anniversary year thoughts on the message of Laudato Si
One image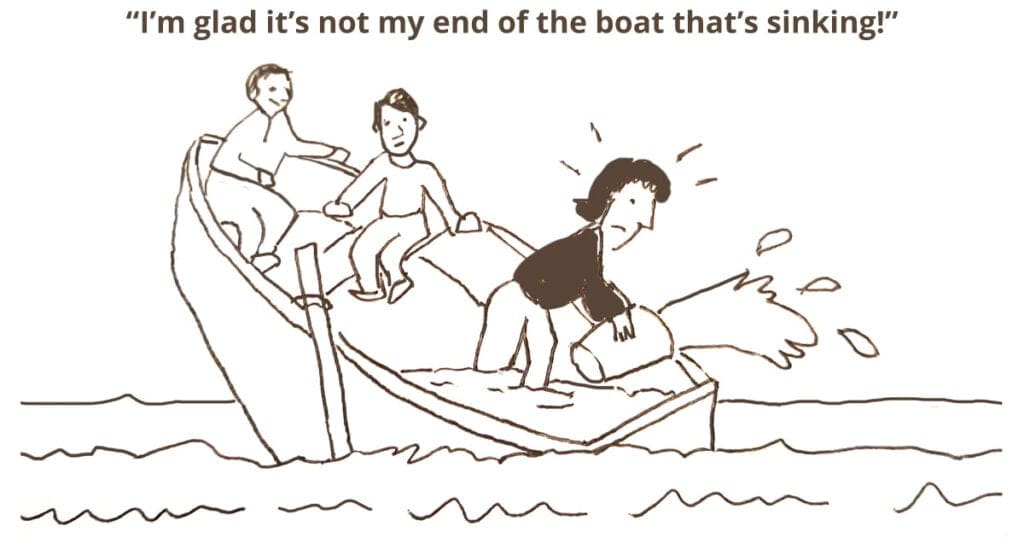 It is a simple graphic! But as we have heard since our youth, "pictures are worth a thousand words." The graphic illustrates two common, but disastrous, attitudes.
The first attitude is a myopic view of problems. I can't see anything beyond what affects me.
The second is like unto the first. I can't see problems that do not appear to affect me now.
Both of these are manifestations of a tendency as old as civilization. "Me-ism"!
The cartoon perfectly captures these two manifestations of the same problem. Being "high and dry" is not a sustainable solution.
Isn't this one of the problems today in coping with the pandemic of the coronavirus. Just because I don't feel sick doesn't mean that I am not a carrier of the virus. Out of concern for those I love (every other child of God, not just those significant in my life) I need to develop the habit of wearing a mask when appropriate as well as more frequent hand washing.
If we are truly God's sons and daughters whether we look different, live in different zip codes, or vote differently, the first commitment for each of us must be to work toward a shift from being  "me-focused" to "we-focused."
It is in our best interest to step back and see how we are focusing on only ourselves being "high and dry." We need to address the underlying causes of what our brothers and sisters face as they are trying to bail out their end of the boat. We're all in this boat together!
Laudato Si summed up in five words
"We live in Gods house"
I recently revisited the scene in the Gospels,  where Jesus casts out the money changers saying that his Father's house is a house of prayer. I asked myself whether my concept of "my Father's house" too small?
Our earth and all that is in it is God's own house, permeated by the Spirit of God from the dawn of creation, where the Son of God pitched his tent in the supreme event of the Incarnation."
We live in God's house as God's children. But as children, we haven't matured yet.
Let me share a reaction of myself as an immature child at Christmas. It may not be surprising but as a young boy, the gift that I definitely did not appreciate was clothing. I wanted toys!
There were other gifts that I got that I appreciated because they were what I wanted. But I often missed the more important gift… the love that was being shown through the gift. In short, sometimes I neither appreciated the gift nor the love that the gift symbolized.
Pope Francis connects the dots
Pope Francis connects dots of insights expressed in just one graphic or five words. In a way that few beside Pope Francis can do, he invites us to a big picture or a systemic way of thinking.
He moves us beyond what I recently referred to as "whack-a-mole" approach to problem solving to "big picture thinking.
Some are amazed and others intimidated that it took him 15,000 words to connect so many dots. On the other hand, I am amazed at how comprehensive a view he offers of our inter-relatedness and the inter-relationship of the wide range of issues in a mere 15,000 words.
For further thought…
How aware am I of that we are all God's children in this boat together?
How aware am I that I live in God's house?