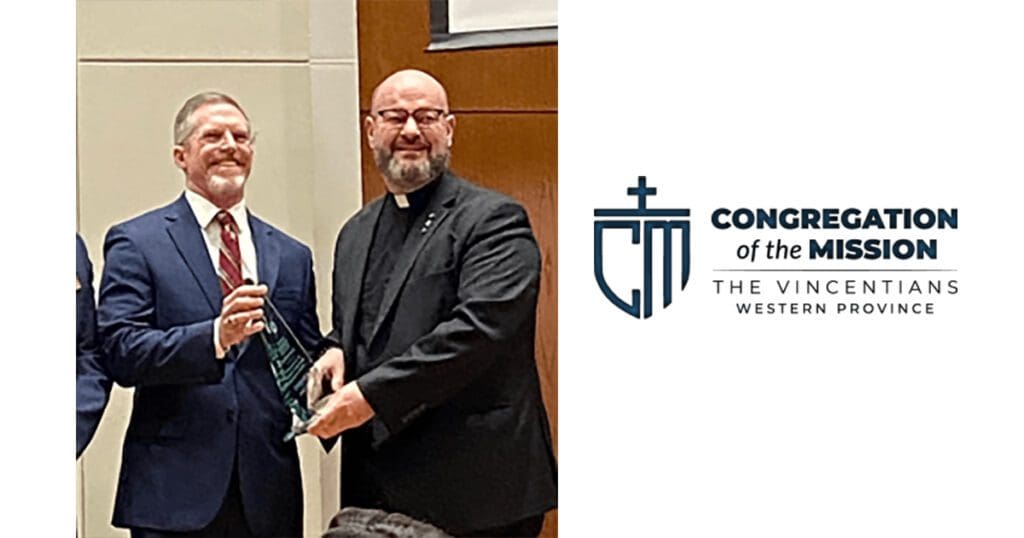 Serving as pastor of three San Antonio churches would be enough to keep most priests busy. For Fr. Kevin Fausz, C.M., that is just the beginning.
Fr. Kevin has been pastor of Holy Redeemer Parish since 2008 and added Our Lady of Perpetual Help in 2013 and St. Michael's in 2018. He has recently taken on some additional public service roles in the community and received a well-deserved award for his contributions.
"I was invited by Kate Rodgers who is the Executive Director for the Alamo Trust, to join the Alamo's Museum Planning Subcommittee for the site's future Civil Rights Exhibit," Fr. Kevin said. "The Exhibit will be within the Alamo Museum and Visitor's Center that is planned for completion in 2026."
On Jan. 27, Fr. Kevin received the Richard Goldsmith Volunteer Leadership Award from Crosspoint, Inc. The Award is named in honor of a founding member and first board president of Halfway Houses of San Antonio. The organization was founded in 1963 and later changed its name to Crosspoint, Inc.
"His career as an attorney has been marked by service to the community and those easily forgotten," Fr. Kevin said. "I am active at Crosspoint events and have served for many years on their Citizens Advisory Board."
Fr. Kevin was also recently invited by the San Antonio branch of the FBI to serve on an Interfaith and Intercultural Advisory Committee called the Multi Cultural Engagement Council, which had its first meeting Feb. 21.
He is also a board member of Terrafirma Homes, which builds affordable housing, including homes and apartment buildings, currently on San Antonio's East Side.
Finally, he was among the interviewees in a local television piece on how the East Side became the heart of San Antonio's African American community. The story is available HERE.
Source: https://www.vincentian.org/fr-fausz-awarded-for-community-service/