On Monday, May 9, 2022, Maya Davis, a graduating nursing student, gave the following sermon in our last Religion 399 African American Faith and Social Justice class. On Saturday, May 14, 2022, thirteen people were maliciously hunted down in a supermarket, on a sunny day, in my hometown Buffalo, New York. I asked Maya if I could share her words with the world. Let the words of her mouth and the meditations of her heart be acceptable, Oh Lord.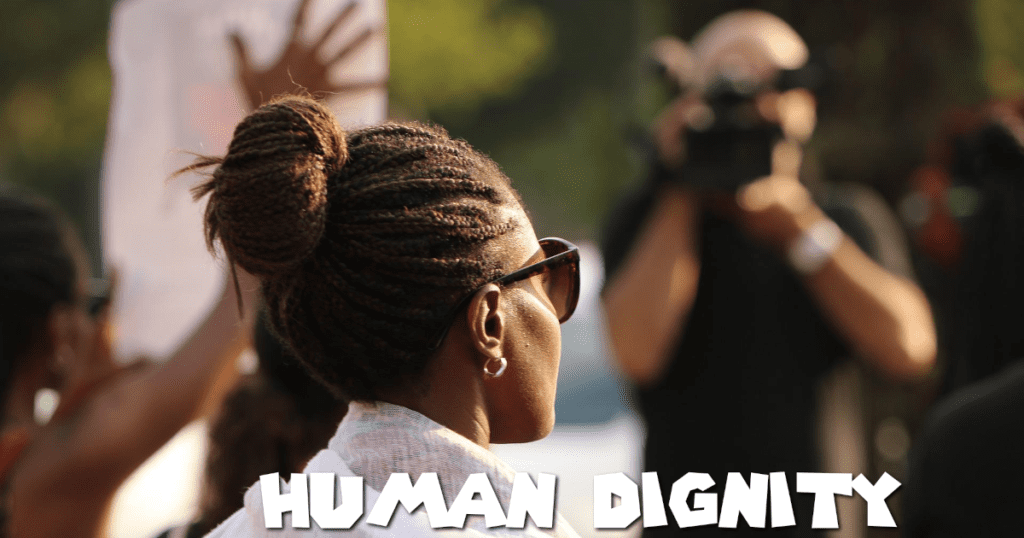 For the next 5 minutes, I want to focus on the historical struggle to uphold human dignity. The definition of dignity is the right of a person to be valued and respected solely due to their humanity. In the Bible, human dignity is exemplified in Galatians 3: 23-28 which says: "Now before faith came, we were held captive under the law, imprisoned until the coming faith would be revealed. So then, the law was our guardian until Christ came, so that we might be justified by faith. But now that faith has come, we are no longer under a guardian, for in Christ Jesus you are all sons of God, through faith. For as many of you as were baptized into Christ have put on Christ. There is neither Jew nor Greek, there is neither slave nor free, there is no male and female, for you are all one in Christ Jesus".  We are made to believe that both the Bible and American freedoms ensure a person's dignity; yet, historically Black people have been denied any sort of dignity.
In the early 1600s, Africans were violently stolen from their homes and brought to a new country to serve as indentured workers for White people who thought they were too good to do the same work themselves, but just rich enough to buy another human being. The enslaved endured long workdays, unhealthy working conditions, and both physical and emotional abuse at the hands of their White slave masters. And when their souls could no longer accept this dehumanization, they took an immense risk to escape, with many losing their life or limbs upon being recaptured.  It is because of this I ask, where was human dignity for the enslaved?
From the 1830s to the 1960s, Black people were often killed as a form of entertainment for White people. White people used their need for power and violently and publicly terrorized and killed Black people. Human beings… hung from trees, decapitated, and burned alive. In 1955, a 14-year-old Black boy was killed over a false allegation of flirting with a White woman. Even after the heartbreaking loss of her son, his mother held an open casket funeral so everyone could see the brutality of her son's, Emmet Till's, death. It is because of this I ask, where was human dignity for the four thousand, seven hundred and forty-three Black people, including Emmet Till, who were lynched in America?
Recent statistics show that African Americans are imprisoned at a rate roughly five times higher than white Americans. Keeping a disproportionate number of Black people, mainly Black men, behind bars, secluded from society, and serving disproportionately longer sentences, as compared to their white counterparts, is systemic; the 13th Amendment of the Constitution supports these actions. Incarcerating young, Black men for non-violent crimes and parole violations makes it more difficult for them to care for their most basic needs once released. This is modern-day slavery;  and because of this, I ask, where is human dignity for Black people who annually experience the $81 billion mass incarceration industry?
In 2020, George Floyd was accused of using a counterfeit twenty-dollar bill. What was his punishment for an accused crime? Derek Chauvin, a Minneapolis police officer, used his knee for nine minutes and 29 seconds to detain Mr. Floyd. And while bystanders stood helplessly on the streets screaming for mercy, Mr. Floyd simply said to no avail, "I can't  breathe." These are the actions of bounty hunters;  and because of this, I ask, where is human dignity for George Floyd and for all Black people who lost their lives after an encounter with the police?
The Bible calls us to practice human dignity;  yet, humanity does not fully grant this theological value to Black and brown members in our communities. Galatians reminds us that before faith came we were held captive, even so, many proclaim but fail to ensure justice for those who experience daily oppression.
It has been tough for me to rationalize the lack of human dignity for the Black community especially in such a developed country as the United States. Does human dignity evaporate upon seeing the color of someone's skin? Does human dignity decrease when melanin levels increase when we cross our community's segregated streets? Does human dignity fade when we see kinky, curly, or sisterlocks on display in our highest court? Does human dignity escape our mouths when a Black person enters an elevator, says hello, and experiences a no reply and a clutched purse.
And to these questions I say, look toward Christ. We are all one under Christ Jesus. Don't rationalize exceptions for human dignity or become content with the aggression and brutality the Black community faces, but understand that this isn't God's will.  God aligns with the oppressed, not the oppressor. Matthew 25:35, says, "For I was hungry and you gave me food, I was thirsty and you gave me drink, I was a stranger and you welcomed me." That is what the Bible shows us as human dignity. Nowhere does the Bible say to judge one another based on the color of their skin. The Bible says to treat one another with kindness. Regardless of skin color, feed those who are hungry; give water to the thirsty. And most importantly, welcome those who do and do not look like you or come from the same background as you. Treat strangers with kindness, respect, and dignity.
Speaking from experience, the last few years have been incredibly difficult for the Black community. Lives have been lost, protests have called us to seek justice, and still not much has changed.
Although human dignity has been a struggle to uphold in the past, we still have our lifetimes to work toward it. So as people of faith, continue believing, acting, and behaving as though we are all one, under Jesus Christ. Where is human dignity, I ask? How will you answer? Amen.
∆∆∆∆∆
As a professor, my heart aches for the many students who see our faithful activities as not good enough. No longer can we ask the question, "what can I do?" Instead, we must say, "let me tell you what I've done to ensure human dignity for my Black and Brown brothers and sisters." God, help us.
Maya Davis, Niagara University, Class of 2022,
introduced by Rolanda L. Ward, Ph.D., MSW, MDiv
Associate Professor of Social Work
Endowed Faculty Director, Rose Bente Lee Ostapenko Center for Race, Equity, and Mission
Niagara University