Is Pope Francis taking a different approach in his message for the 2022 World Day for Peace?
Often these messages stress the traditional opposition between peace and war. This year he develops a theme from Saint Paul VI. He taught that peace is the goal of a journey.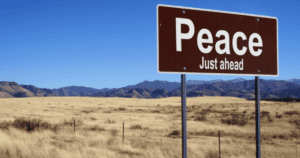 Pope Francis offers rules for the road in "Dialogue between generations, education, and work: tools for building lasting peace". Here is a 2-3 minute summary.
Today the path of peace, which Saint Paul VI called by the new name of integral development, [1]remains sadly distant from the real lives of many men and women and thus from our human family, which is now entirely interconnected,
In every age, peace is both a gift from on high and the fruit of a shared commitment.
Here I wish to propose three paths for building a lasting peace.

First, dialogue between generations as the basis for the realization of shared projects.

Second, education as a factor of freedom, responsibility and development.

Finally, labor as a means for the full realization of human dignity.
Dialogue between generations to build peace
(Today)"some people attempt to flee from reality, taking refuge in their own little world; others react to it with destructive violence. Yet between selfish indifference and violent protest, there is always another possible option: that of dialogue. between generations". [5]
Young people need the wisdom and experience of the elderly, while those who are older need the support, affection, creativity and dynamism of the young.
Great social challenges and peace processes necessarily call for dialogue between the keepers of memory – the elderly – and those who move history forward – the young. Each must be willing to make room for others and not to insist on monopolizing the entire scene by pursuing their own immediate interests, as if there were no past and future.
If, amid difficulties, we can practice this kind of intergenerational dialogue, "we can be firmly rooted in the present, and from here, revisit the past and look to the future.
To revisit the past in order to learn from history and heal old wounds that at times still trouble us. To look to the future in order to nourish our enthusiasm, cause dreams to emerge, awaken prophecies and enable hope to blossom. Together, we can learn from one another". [8] For without roots, how can trees grow and bear fruit?
We need only think of care for our common home. The environment, in fact, "is on loan to each generation, which must then hand it on to the next". [9]
Teaching and education as drivers of peace
In recent years, there has been a significant reduction worldwide in funding for education and training; these have been seen more as expenditures than investments.
It is high time, then, that governments develop economic policies aimed at inverting the proportion of public funds spent on education and on weaponry.
 "A country flourishes when constructive dialogue occurs between its many rich cultural components: popular culture, university culture, youth culture, artistic culture, technological culture, economic culture, family culture and media culture". [14] Encyclical Letter Fratelli Tutti (3 October 2020), 199. I
Creating and ensuring labor builds peace
Labor is an indispensable factor… since we always work with or for someone.
… there is a need to promote, welcome, and support initiatives that, on all levels, urge companies to respect the fundamental human rights of workers, raising awareness not only on the part of institutions but also among consumers, civil society and entrepreneurial entities.
Pope Francis concludes with an appeal
Let us walk together with courage and creativity on the path of intergenerational dialogue, education, and work!
Originally posted on Vincentian Mindwalk