Sister of Charity of Nazareth Paris Slapikas, who took the helm of Catholic Charities of Louisville's Sister Visitor Center June 1, aims to work with the center's staff to transform the lives of those they serve.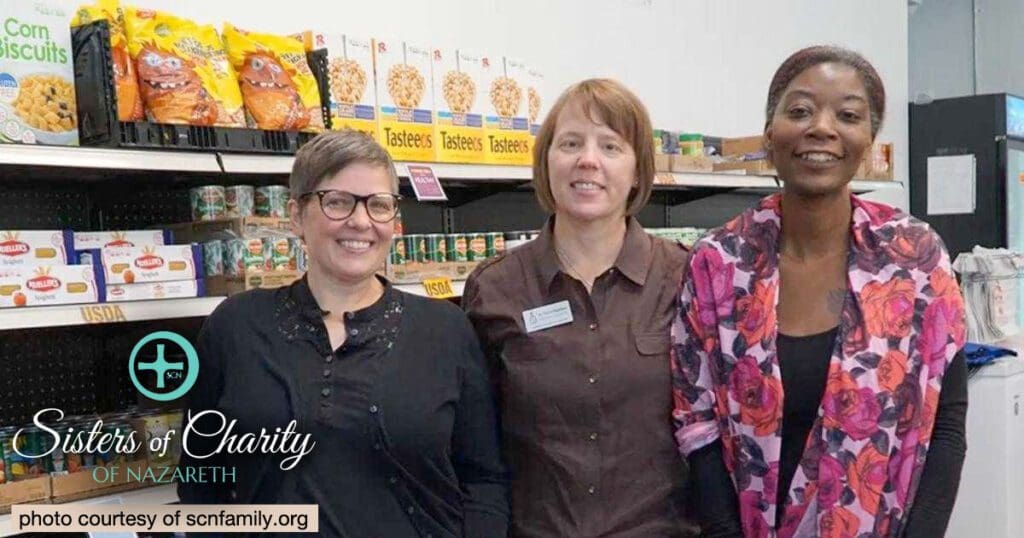 "We may not have the capacity to change a system but the capacity to create some sustainable change in people — that's what we want to be about," she said during a recent interview at the center located across West Market Street from the old St. Anthony Church.
With the support of the community and the "passion and dedication" shown by staff members and volunteers, Sister Slapikas said she is excited about the future of Sister Visitor Center.
She's not wholly new to the center. In 2005, two years after joining the Sisters of Charity of Nazareth, she spent a week serving at Sister Visitor Center.
"I got to see the compassion the staff had for the people they serve," she said. "That spirit is still alive and well."
Like St. Teresa of Kolkata, the center's patron saint, the staff are dedicated to serving the poor, she said.
Sister Slapikas served for 14 years at the Center for Women and Families prior to coming to Sister Visitor Center. She now wants to carry on the "charism and legacy" the SCNs started 50 years ago when they founded Sister Visitor, she said.
Located at 23rd and West Market Streets, the center provides emergency help with rent and utility bills, as well as food and clothing to residents of the West End. Sister Slapikas said while she and her staff will keep serving those needs, she wants the center to do more.
This month, the staff will start working on a strategic plan — its first said Sister Slapikas. While this strategic plan will align with Catholic Charities' plan, it will also give her and the staff guidance for developing their own vision of the center, she said.
Sister Slapikas said she'd like to develop a "new track," where the center is providing its current services while also working to bring about "sustainable change" in the lives of those they serve.
"One of my hopes is to be more active in the community and network with our partners in West Louisville, to uncover the need and expand services," she said.
For instance, she'd like to develop the center's case management services. Currently, that service is limited to financial assistance and connecting people to basic needs. Sister Slapikas said she'd like to see case managers "journey with clients and help them over time."
"We're hoping to be able to help people transform their lives and be a partner with clients to create a sustainable change," she said. "The staff is good at accessing needs and building relationships, but they've never had the opportunity to journey with people for a period of time."
Her focus now is developing that new track — creating a process for uncovering the needs of clients beyond the financial area, determining partner agencies to help fulfill those needs, and raising the funds to do so, she said.
Source: https://scnfamily.org/posts/