On the eve of the feast of Saint Francis of Assisi, 4 October 2020, Pope Francis published his third encyclical letter: 'Fratelli tutti'.

As the person in charge within an international congregation that fulfils a clear mission in the world, more specifically in the world of education and health care, on the basis of its own charism, Bro. René Stockman offers here a short summary of each chapter followed by a more personal reflection.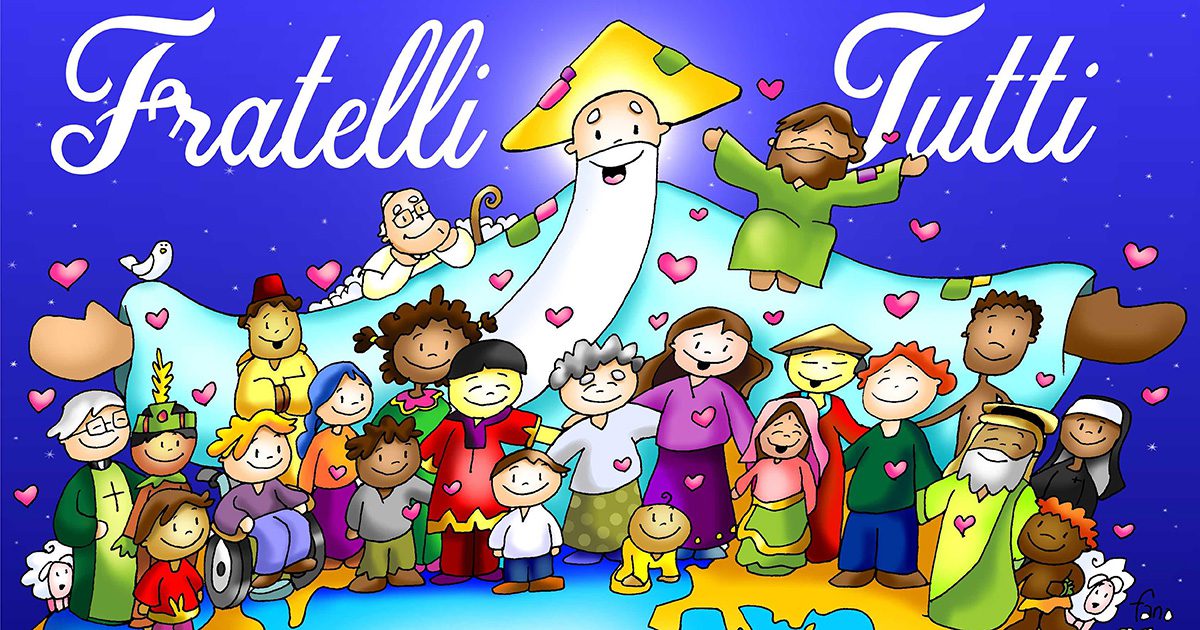 Chapter 7: Paths of renewed encounter
Building on what was said in the previous chapter, the encyclical now seeks to address a number of very concrete realities that are defining our coexistence today and that call for a clear position.
The starting point must always be the truth, accompanied by justice and mercy. The truth does not have to lead to revenge, but rather to reconciliation and forgiveness.
The arduous road to world peace is not a road where all differences have to be overcome, but a road of shared work for the promotion of the common good. It is detrimental when one wants to dominate the other and where only power has the first and final word. Equally detrimental is the way in which wealth is being accumulated today by a small minority. This is a far cry from a shared concern for the common good, and these are the stumbling blocks for it. That is why major reforms never happen from behind a desk, nor do they happen by legal means alone, but rather when, through joint dialogue, a serious effort is made to find lasting solutions. It is important, in this respect, to consciously set aside any form of revenge. Peace does not only mean the absence of war, but also the desire to really grow towards greater tolerance towards each other, in which respect for each other's dignity as human beings must always come first. For example, only a culture of closeness with the so- called ostracized groups in society will allow mutual understanding to grow.
It is regrettable that some people do not want to talk about reconciliation, because they believe that conflict, violence, and separation are inherent in any form of coexistence. Others see reconciliation as a sign of weakness and a way to flee from conflict. Forgiveness and reconciliation are themes that are very much characteristic of Christianity, but they are also present in other religions. But Christ does not speak of cheap forgiveness, peace, and social agreements. That is why his statement is particularly powerful: "I have not come to bring peace, but a sword" (Mt 10:34). This is precisely about the fundamental values discussed in the previous chapter, which do not tolerate any compromise and for which martyrs gave their lives, even to this day. Nor is it a question of simply forgiving corruption or criminal acts that do serious damage to human dignity. We are called upon to love everyone, but this does not mean that we can accept everything that others do. Forgiveness does not mean covering up what others do to the weak. It takes courage to face up to this injustice, precisely out of love for one's neighbour and ultimately out of love for God himself. But this must be done out of a sincere desire for goodness to prevail and not for revenge. We have to be able to keep looking in our hearts to see what feelings are there and how we do not allow ourselves to be dominated by negative feelings. True reconciliation takes place at the heart of the conflict and is only possible through sustained dialogue and transparent and patient consultation. Otherwise it will remain something artificial and certainly not sustainable.
An important basic principle for building social friendship and peace is that unity must always remain more important than conflict. We must do everything we can to prevent polarization.
Forgiveness does not mean what we should just forget. We cannot simply forget persecutions and serious crimes against humanity, but at the same time we must not allow ourselves to be paralysed by them. We never evolve without a clear reminder of the past, but we must always leave room for forgiveness. The vicious circle of violence can only be broken by forgiveness. Revenge will give neither the perpetrator nor the victim true satisfaction.
On the basis of these general principles, we can only state that any form of war is a gross denial of human rights and remains a dramatic act of aggression against the environment. If we want to promote truly integrated human development, everything possible must be done to avoid wars. Hence the importance of intensive dialogue and consultation, including at world level. Although it is said that we have the right to defend ourselves in the event of an attack, the question must always be asked whether there was sufficient consultation and whether we were not too quick to take up arms. Preventive warfare is therefore fully condemned, especially in the light of the disastrous consequences it can have by using today's devastating arsenal of weapons. That is why we keep repeating: "Never again war!" Every war leaves the world worse than it was before. War is always a defeat for the political authorities and, ultimately, for all humanity, a surrender to the forces of evil.
Another topic is the death penalty. It is made clear that the death penalty is always inadmissible and every country is invited to develop other means of punishing a perpetrator of a serious crime, while at the same time protecting society from possible recidivism. One might even ask whether life imprisonment is really an alternative or whether it seems more like a veiled death penalty. At the same time, we must continue to respect the human dignity of the perpetrator and condemn all forms of torture.
World peace is indeed a great concern, and we are constantly faced with conflicts around the world that are getting out of hand. As Pope Francis pointed out, it is a world war fought piecemeal. We are also thinking of the countries where we are present as a congregation and where we constantly face ethnic and religious disputes that sometimes have dramatic repercussions. For us brothers, it is important that we succeed in transcending all ethnic differences and show the environment by means of a harmonious community life that coexistence with different ethnic backgrounds is indeed possible. And in the places where we live as a minority within other religions, the task remains to find concrete ways of dialogue. This will be discussed in the next chapter. Through our apostolate, in which we open ourselves without discrimination to people from different ethnic and religious backgrounds, we can contribute to a growing dialogue. Sometimes we stand side by side like two pyramids. The tops are far away from each other and it is difficult to enter into dialogue with each other ideologically, but at grassroots level, dialogue can easily grow through very practical actions, and so the pyramids can gradually move closer together so that the tops can come closer together, as well.

Everything that has been said with regard to world conflicts also applies to our coexistence as a community, as a region, and as a congregation.
Bro. René Stockman,
Superior General of the Brothers of Charity
Source: Brothers of Charity Website