Fr. Virgil Cordano Center (FVCC) is a collaborative ministry of the Franciscan Friars at Old Mission of Santa Barbara and the Daughters of Charity at St. Vincent's.  Operating since January 2019, FVCC'S purpose is to provide a quiet, respectful, and safe environment for those without housing to experience a place of welcome and support. Those who come to the center enjoy a peaceful place to spend the day, do laundry, access the internet, gain support with documents, pick up mail, offered meals and engage in spiritual dialogue as desired. All provided with love and dignity. Over 250 persons look to FVCC as a place of respite and support during the day.
That is until Covid-19 came to Santa Barbara……
In March 2020 the Center was forced to close as it could not provide the social distancing required to ensure the safety of clients, volunteers and staff. Since then, its leadership has engaged in creative thinking to determine how the they might continue to assist their brothers and sisters who are without permanent housing.
The staff and volunteer's willingness to help with ordinary – and unordinary – things has not changed. In the beginning, FVCC's Program Director, Cynthia Estrada, began outreach to those served through the center; visiting individuals where they were known to stay; delivering mail, providing food, and most importantly letting everyone she could find, know they were not forgotten.  "The Father Virgil Cordano Center is more than a building. Even though the center is closed, the most significant aspect of our ministry remains. Our clients know we care. We're here to walk with them," emphasized Ms. Estrada.  Serving with love is evident as Ms. Estrada and volunteers reach out to clients where ever they find them.
In addition to visits, clients are communicated with by phone, email, and posting on FVCC's website.
A Place to do their laundry
As the pandemic continued, the center's clients let Ms. Estrada know having a place to do their laundry was a growing need. It was first thought clients could come to the center to do a load of laundry once a week by appointment. Very quickly it was determined using commercial laundry facilities would be much more efficient and accessible. Via FVCC's communication network and adapting to changes in contact points, clients were provided with the opportunity to make appointments to not only wash their belongings but also receive available food, mail, assistance in completing the 2020 census and other supportive services. "The clients truly appreciate the one on one time the laundry service affords them," said Ms. Estrada. She explained that one on one interactions allow the person to be more vulnerable, more open. "I start with asking how their life has been and the conversation grows from there. A person knows if you are truly interested in them as a person."
By early May, laundry service was made available to any person without housing who could come to the laundromat by appointment. Today, laundry service is being provided to 20 persons a week spread over 2 days. Additional days will be added if needed.
Hunger is always an issue for those who live without housing and financial stability.
The staff and leadership of FVCC were aware of the growing need for food delivery to their homeless brothers and sisters beyond those who had come to FVCC in the past. Starting in August, using their own vehicles, Sister Maria Hoa Nguyen, DC, Director of Outreach for St. Vincent's, Ms. Estrada, the Franciscan Friars and volunteers increased the number of food packages assembled at the center and began distributing them at parks throughout Santa Barbara. "The plan was originally to provide 50 meals 3 days a week. That has grown to 100 per day. We could not provide these meals without the help of our volunteers, partnering with food banks and donations from commercial food outlets. We are very grateful for their generosity," said Sr. Nguyen
Repurposing the Center to accommodate food assembly
Inventiveness to Infinity
St. Vincent warned his followers that solutions to the constant challenges which were sure to present themselves, would require "inventiveness to infinity." As a direct result of the dedicated, creative and inventive work of two staff and many volunteers, the mission and vision of the Fr. Virgil Cordano Center continues throughout the pandemic – all the while double the number of brothers and sisters experiencing homelessness in Santa Barbara.  Sr. Nguyen concluded, "The people receiving these services have expressed their great appreciation. When asked if the food services were helpful, one man responded, 'You don't know how much it helps. When we are out here and hungry, it's the only thing we have.'"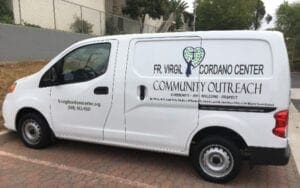 To help with this expanded service, the Fr. Virgil Cordano Center received donations to purchase a van allowing for more space for food and supplies.