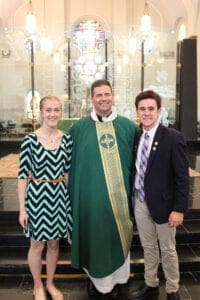 Three of Niagara University's newest Vincentian Scholars, freshmen Mia Brillant, Megan Frawley, and Andrew Passow, were commissioned during a Family Weekend Mass on Sept. 29, 2019. The fourth first-year scholar is Katrina Belcastro. The Mass was part of the university's observance of Vincentian Heritage Week, which celebrates its rich history of education and service in the spirit of St. Vincent de Paul, a 17th century Catholic priest who inspired and organized his contemporaries to serve the less fortunate.
The Vincentian Scholars are part of a four-year scholarship program that forms leaders in the Vincentian tradition—academically, practically, and spiritually. Each scholar accepted into the program not only maintains a high grade point average, but also develops the responsibility to work side-by-side with local community leaders.
Pictured are Niagara University president, the Rev. James J. Maher, C.M., with Vincentian Scholars Megan Frawley and Andrew Passow.