A dignitary's visit to Napa
A visit to Napa from the superior general of the Catholic Church's Vincentian society highlighted Sunday's Blessing of the Workers at St. John the Baptist Catholic Church. But the wine country visit by Father Tomaz Mavric was not confined to the sanctuary.
On Saturday, Mavric visited OLE Health's medical center on Hartle Court, where he toured a community garden where fresh produce is grown in support of the clinic's healthy-food education program. That tour was a part of the Vincentian mission of ministering to lower-income communities worldwide, according to Father Mark Pranaitis, a senior vice president for the Vincentian society's international mission services.
"It's important to know we are not an island," Mavric said Sunday after the service, as he prepared to meet with farmworkers and their families at the banquet. "… Jesus wants the best for all of us, to lead a peaceful and human life, for workers and the ones who give work to value each other and to know we are a gift to each other." – Howard Yune
To read about the Blessing of the Workers, see the article by Howard Yune of the Napa Valley Register below: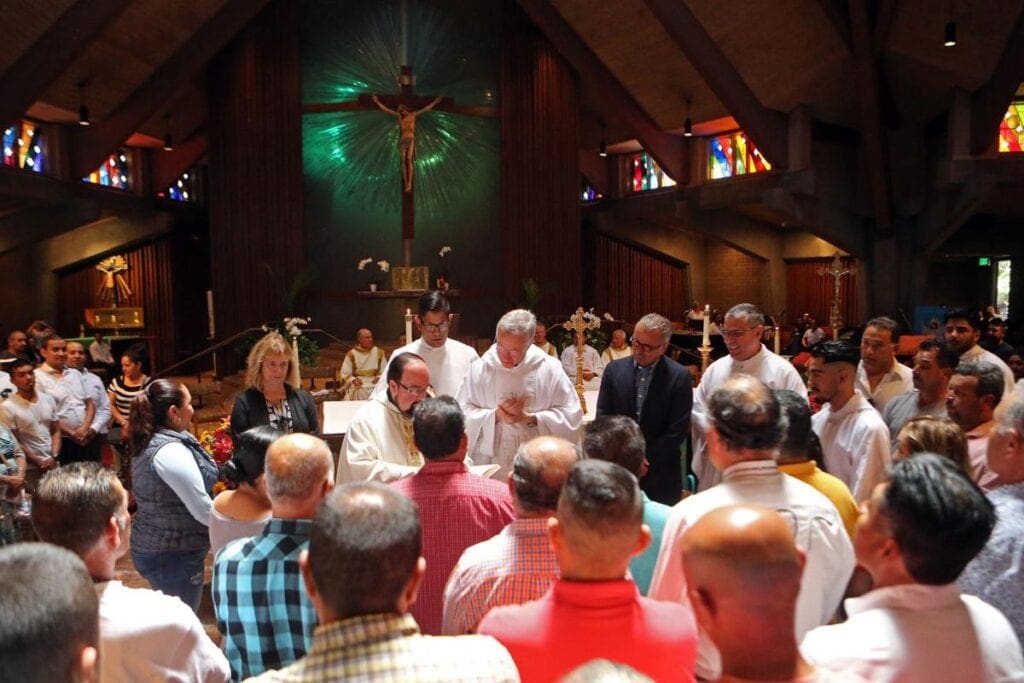 Church thanks Napa Valley vineyard laborers with Blessing of the Workers
A celebration at a Napa church was the occasion for those who serve the wine industry to themselves be served – and honored.
Hundreds of worshipers packed the sanctuary of St. John the Baptist Catholic Church for a Mass with a special purpose: to recognize the industry and commitment of men and women who tend the vines supplying the county's hundreds of winemakers. During the Harvest Anticipation Mass and Blessing of the Workers, it was those workers who joined priests in front of the altar, and who received blessings from the head of a Catholic order devoted to serving the rural poor.
Father Tomaz Mavric, superior general of the Congregation of the Mission – widely known as the Vincentians for St. Vincent de Paul, who founded the order in the 1620s – listened as more than 50 men and women flocked around him and asked for prayers: for a father who had not seen his daughter for years, for a mother whose son is battling cancer, for others seeking blessings on relatives recently arrived in the U.S. and searching for steady work.
After the Spanish-language service, those workers and many others would step through the church doors and into an ample banquet serving up plates of grilled chicken, carne asada, pupusas and more, with Mavric shaking their hands or greeting them at various tables.
Such gratitude for the valley's vital, but unsung, workers in years past seemed unimaginable to one spectator, who thought back to his arrival in the valley in 1964.
"Things were very different again, not even any Spanish services," recalled Jose Padilla, who still works in the industry at age 64. "I can't believe how things have changed over the years, over time. … I feel very lucky for these people to come here and visit us and bless us – it's wonderful."
St. John's was hosting the Blessing of the Workers for the second summer, less than two years after a Napa couple's papal visit, organized by Mavric, drew a Roman priest's attention to the firestorms then raging across the North Bay.
That idea evolved starting in 2018 into a full-fledged blessing ceremony at St. John's, combining a tribute to Napa Valley laborers with a festival to gift workers a moment of leisure as a gesture of gratitude. Underwriting Sunday's festivities were Frank Naeymi-Rad and Theresa Kepic, a couple that has bought vineyard properties in Calistoga – and who met Pope Francis at a time when their adopted home county was under grave threat.
"The Holy Father said, 'I will pray for the vines, that they will give good fruit, and that the people will have work for their human dignity,'" said Mavric, an Argentina native of Slovenian descent. "And then Frank, because he spends time here in Napa, had the inspiration: What if we organize a blessing for the vineyard workers as a gesture of spiritual food?"
"What we have today is a gift from the pope to the vineyard workers," said Naeymi-Rad, whose wife is a cousin of Mavric.
With farmworkers dispersed across swaths of the Napa Valley during the work week, a house of worship proved to be the logical place to gather as many to be blessed and celebrated as possible, according to a co-founder of Ceja Vineyards.
Kepic and Naeymi-Rad "asked me how they could reach as many people as possible, and I said that one of the largest churches that farmworkers attend is St. John's, and they loved the idea," said Amelia Morán Ceja, whose family-run firm has grape-growing operations in Napa and Sonoma counties.
"This is what unites the Napa Valley: not just religion but much deeper beliefs. How appropriate it is to bless the workers, without whom there wouldn't be a wine industry, in such a loving way."
Source: Napa Valley Register, Author: Howard Yune