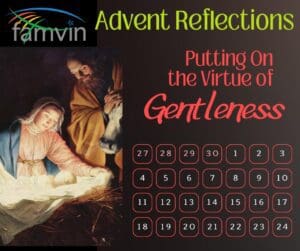 Putting On the Virtue of Gentleness
December 10, 2022
Gentleness involves forbearance and forgiveness. Support (forbearance) is the key French word here. He encourages Etienne Blatiron to treat a troublesome confrere with gentleness and forbearance (support), since this is in conformity with the spirit of Our Lord.1 He tells Bernard Codoing to show two confreres, with whom he was having difficulty, the gentleness and forbearance recommended by Our Lord.2 He repeats the same advice to Marc Coglée, superior in Sedan,3 to Louis Dupont, superior at Tréguier,4 as well as to Pierre Cabel5 and Firmin Get.6 In the conference on "The Five Characteristic Virtues of the Company," given on August 22, 1659, he states that gentleness and forbearance are necessary both in community life and in the service of the neighbor.7 It entails enduring offenses with forgiveness and courage. In fact, we should treat gently even those who do injury to us. He encourages the missionaries: Gentleness not only makes us excuse the affronts and injustices we receive, but even inclines us to treat with gentleness those from whom we receive them, by means of kind words, and should they go so far as to abuse us and even strike us in the face, it makes us endure all for God. Such are the effects produced by this virtue. Yes, a servant of God who truly possesses it, when violent hands are laid upon him, offers to the divine goodness this rough treatment and remains in peace.8
1CCD III, 383.
2CCD III, 469.
3CCD IV, 51.
4CCD V, 605.
5CCD VII, 201.
6CCD VII, 594.
7CCD XII, 306.
8CCD XII, 192.
Source: Fr. Robert P. Maloney, C.M. A Further Look at "Gentleness"
Let us pray

Lord, grant us the strength to endure all with gentleness, forbearance, and forgiveness.
---
Scripture
A soft answer turns away wrath,
but a harsh word stirs up anger.

Proverbs 15:1