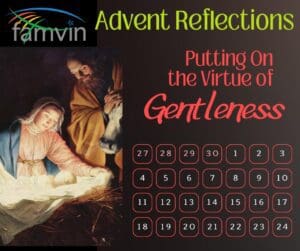 Putting On the Virtue of Gentleness
December 1, 2022
St. Vincent states that the gentle are constant and firm. They are able to think straight. On the contrary those who allow themselves to be carried away by anger and passion are ordinarily inconstant.1 In addition, he states: "I think that the ability to discern things is granted only to those who have douceur (gentleness)."2
1CCD XI, 65.
2CCD XII, 190.
Source: Fr. Robert P. Maloney, C.M. A Further Look at "Gentleness"
Let us pray

Lord, if You are willing, You can make us meek and humble of heart, in imitation of You.
---
Scripture
…but in your hearts sanctify Christ as Lord. Always be ready to make your defense to anyone who demands from you an accounting for the hope that is in you; yet do it with gentleness and reverence.

1 Peter 3:15-16