Russia's war on Ukraine has brought so much pain and suffering. It has resulted in a humanitarian crisis which will only get worse as winter approaches. The Ukrainian winters are very cold, especially in the north, where temperatures can reach as low as minus 20 degrees.
As a global homeless charity, Depaul is deeply concerned about Ukrainians who are homeless or don't have adequate housing. We are launching an urgent winter fundraising appeal so we can help more people to survive the winter months. We are battling war, but soon we will be confronted by the reality of winter too.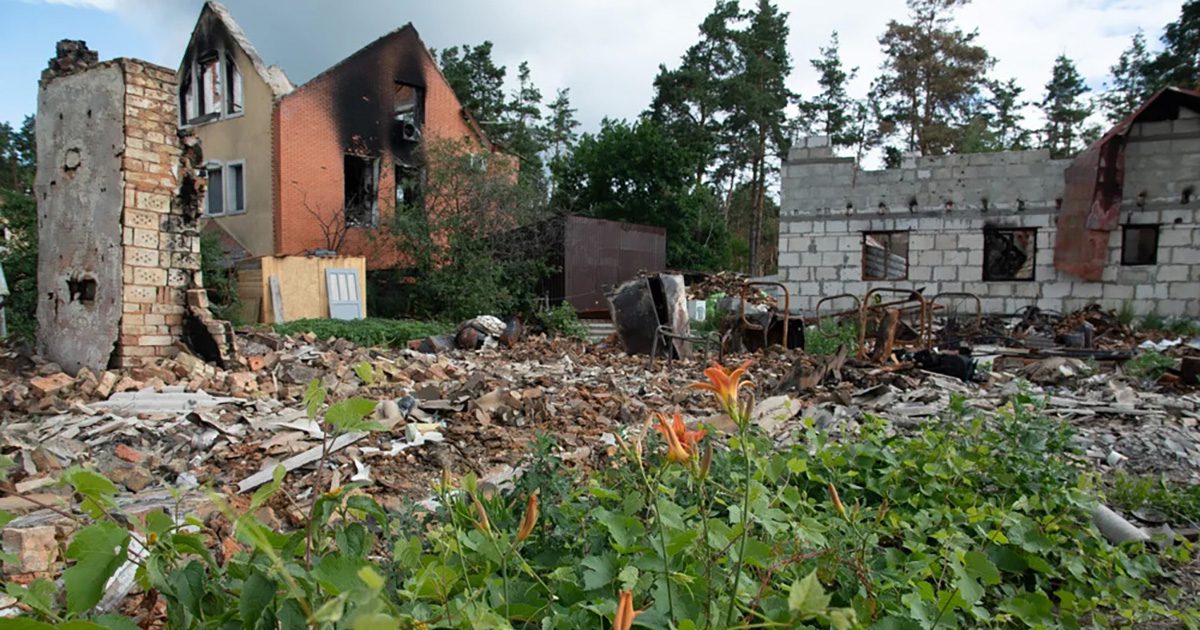 Ukraine has now sustained over six months of attacks from Russia. As a result, many people's homes have been damaged. I've visited many houses where the roof has been hit by a missile, or the windows have been blown in. It worries me as damaged homes won't retain any heat in winter, leaving people vulnerable to hypothermia and frostbite.
I have also met a lot of people whose homes have been completely destroyed or are inhabitable as a result of shelling. Many of these people are now living in sheds or agricultural outbuildings, which will soon become dangerously cold. Even if people aren't freezing to death, there are a lot of people needing amputations of fingers and toes due to frostbite. After only two or three hours, you can lose your feet, so this is a dangerous situation.
Homeless people and those living in damaged housing will be most vulnerable, but everyone in Ukraine is worried about winter. In September, Russia targeted electricity infrastructure in Kharkiv. There is a very real fear that Russia may launch further attacks in the coming months, preventing everyone in the affected area from being able to heat their homes.
This winter, the Depaul Ukraine team is providing people with materials to repair their homes. We are also distributing winter kits including warm clothing, blankets, heaters and fuel. Depaul is hoping to reach over 6,000 households which would otherwise be left to face brutal temperatures.
We are also arranging for families to stay in hotels and hostels over the winter months. This model builds on Depaul UK's successful programme arranging for homeless people to stay in unused hotels during the COVID pandemic. We will continue to support these families to secure more permanent accommodation. Some of the families we are supporting are too traumatised to leave their bomb shelters. We are working with them to improve the conditions inside the bomb shelters by providing heaters and toilets, so that people don't have to relieve themselves outside.
It's a dire situation. I'm speaking to a lot of traumatised people who don't have much hope for the future. There has been so much pain and suffering over the past six months and now winter is coming. It's so important that people don't forget about Ukraine.
I believe that the Catholic community has an important role to play. I see the results of the Catholic church's social teachings all the time. The Catholic community in Ukraine is relatively small, but they've played a vital role in the humanitarian response. At the start of the war, our local Catholic partners saw the tremendous need and chose to stay in Ukraine. Their faith drives them to help people.
Depaul has many volunteers who are driven by their faith. When the war first broke out, a Catholic couple took refuge in the basement of the Vincentian centre in Kyiv. We gave them food as they had lost everything, but they also wanted to help other people. The couple drove to the villages around Kyiv delivering food. These brave volunteers are now Depaul staff members.
The vast majority of funding for our Ukraine response is from the Catholic community, including faith-based organisations, schools, and individuals. Thanks to our partnership with CAFOD, we are receiving Disasters Emergency Committee (DEC) funding. My prayers are for all the people who remember and support us.
In September, I met with Cardinal Konrad Krajewski in Odesa. The Cardinal travelled to Ukraine on behalf of Pope Francis, to demonstrate the closeness of the Pope to Ukraine. He visited some of Depaul's projects and helped distribute humanitarian aid. He appreciated our kindness, and how we offer our time to help others. The Cardinal told me how he often spoke to Pope Francis about our work and he said Pope Francis thanks us.
The Depaul Ukraine team is already helping so many vulnerable people. I'm very proud of our local staff and volunteers, who are working under the most difficult of circumstances. However, our team would like to do more. We have a launched a winter appeal, as the more money we raise, the more people we can help. If you can, please consider donating to our winter appeal. A donation of £20 could provide a child with enough nutritionally balanced food to last five days, while £55 could equip a family with a winter survival kit including items such as blankets, winter clothing and fuel.
You can donate to our work in Ukraine: Depaul Ukraine Emergency Appeal – Depaul International (int.depaulcharity.org)
By Father Vitaliy Novak, chair of Depaul Ukraine.
Source: https://int.depaulcharity.org/