Belize Mission Reflection by Ellen Sprigg
It has been two years since the SCN Volunteer Program has been able to bring a team of volunteers back to Belize, due to the global pandemic that has become our daily life. Up until the team of nine boarded the plan on Jan. 16, there was nervousness in the air as to whether it would truly happen. This mission was originally scheduled for spring of 2020 and had been rescheduled multiple times. Each time we rescheduled we would try to remember, All in God's perfect time"….and perfect it was!
"This has been one of the most satisfying experiences of my life." Rob Martin
"Helping a family have a home has been so gratifying and getting to do this with friends has made it even more meaningful." Katie Martin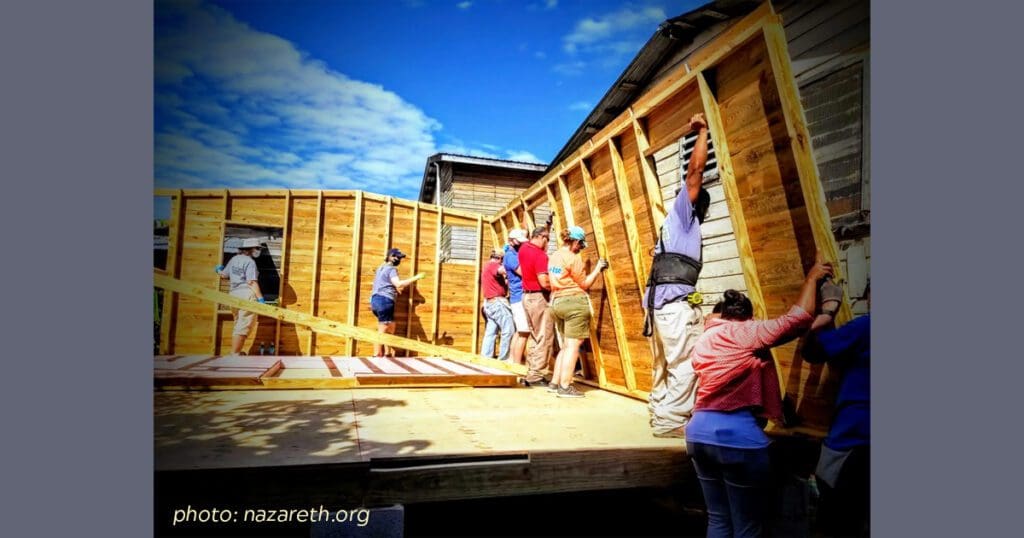 The Sisters commissioned the team by singing the song, "I send you out on a Mission of Love" and those words resonated throughout the week giving each of us peace in our travels and in our work. The team was comprised of family and friends of Ellen and Bill Sprigg and the house was built in memory of their dads, who taught by example the importance of serving and loving your neighbor. This was also the 450th build for Hand in Hand Ministries in Belize, which is a testimony to the love they are spreading the lives they are changing.
"I felt God's spirit in everyone I have met." Rosemary Miller
"Because of this, my life will be forever changed." Bonnie Johnson
Shawna, the young woman that was the recipient of the house, worked alongside the team each day, building with her own hands and sweat. She has three children, is self-employed, and also cares for her disabled father. The building site was filled with so much excitement, sounds of hammering, singing, and laughter. The love felt from Shawna and her sweet family, the love spread from and within the mission team, the love that continuously outpours from the Hand in Hand staff, and most importantly the love felt from up above, truly made this a mission that will live on in the hearts and minds of a person.
"I would certainly do this again". Drew Clarke
"The faith of the Belize people and blending of cultures was awesome. It was an honor to build the house with family and friends." Mark Ballard
At the house blessing, the mission team and the family chose "What a Wonderful World" as the closing song. As we sang together arm in arm, we felt so connected and blessed that God united our group from thousands of miles away to this family, all in honor of our dads and parents who taught us by example to give and serve and laugh and love with all your heart. And I say to myself, what a wonderful world!
See more photos from this trip here.
"I can sum up the trip with two words: Bountiful Blessings". Bill Sprigg
"This trip reinforced the meaning of Grace and Gratitude—give as we have been blessed." Gary Seyle
Source: https://nazareth.org/