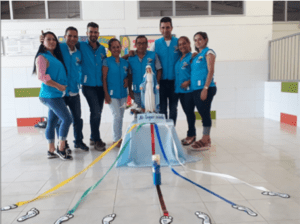 Editor's note:  Beatriz reflects on the effects of living the mission life of MISEVI during the years with covid restrictions.  MISEVI Colombia is committed to local community mission work.
In the last 2 years,  Misevi Colombia has witnessed the love, strength, enthusiasm and dedication to the mission entrusted as Vincentian Secular Missionaries. These months strengthened us more in our fraternal sharing, which was strengthened through virtual encounters during that time of individuality that each one experienced from their homes.  The "distance finally brought us closer" with moments of prayer, of encounter, of spiritual life and immense gratitude to God and our Virgin of the Miraculous Medal, as well as to our Founders Saint Vincent de Paul and Saint Louise de Marillac.  The distance increased the faith that we would succeed.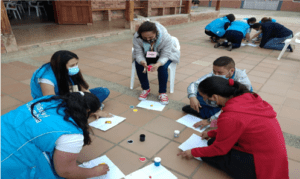 Our Spiritual life was strengthened much more and now we find ourselves living our reason for being again: the Life of Mission that was reactivated. We have desire  to go out again and recognize that in these few 20 years of MISEVI Colombia,  in 2021, we continue in our 7 Associations, more than 60 Misevistas sharing the Vincentian Charism in each of our apostolates: the accompaniment of older adults, assistance to vulnerable families, Evangelization in parishes, in addition to strong times of Mission, catechesis and work in common with the entire Vincentian Family of many of the localities.
We are in continuous formation to respond to our missionary projects with affectionate and effectionate love, always hand in hand with our Mother Mary.
Beatriz E. Gaviria O.
Misevi Santa Rosa de Cabal
National Secretary