March is a month to celebrate Women's History and the International Day of Women (March 8) and anticipate the new life in springtime.  My reflection this year is of women who are creating history and a recent moment when I was so proud to be a Vincentian Woman.
About a month ago, as part of the NGO for Social Development, we organized the Civil Society Forum for the Commission on Social Development at the UN.  A labor of love but very involved and strenuous, I looked forward to its completion.  That is, until it happened.  Then, two very special "Vincentian" women animated my spirit.  It is not just who they are but how much they care.  It is their passion for the dignity of the human person and human rights. It is their drive and selfless determination to accompany poor people and work with them to create a better world. They are hope for our future.
Both were speakers at the CSF Thematic Session One on February 9 — A global Overview of Poverty, Human Dignity and Well-being.  After a keynote by Olivier De Shutter, UN Special Rapporteur on extreme poverty and human rights, Rose de Lima Ramanankavana spoke passionately about the loss of dignity and well-being for the widows who do not have rights to marital property and who suffer homelessness with their children after the death of a spouse in Madagascar.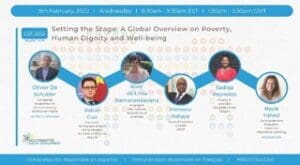 She spoke of their despair, loss of respect until they receive help and support from groups like the AIC.  Offering food, education, skills training, and housing, brings them to life and restores their dignity. She concretely described the conditions of poverty throughout the world as seen by AIC volunteers that leads to a loss of dignity and respect.
Rose has been a leader in the Vincentian Family for many years.  A teacher by profession, she educates not only with words but also by her witness.  Rose founded the AIC Associations in Madagascar in 1988, one of the 55 national associations of AIC. She served as AIC-Madagascar President from 1992-2000 and went on to the International Board serving in various capacities and became president of AIC-International in 2020.
Beyond her accomplishments, what was so very impressive about Rose was her ability to put her own needs aside to speak on behalf of the poor women.  The roof of Rose's home was destroyed by the Batsirai Cyclone only two days before this event.  She had no electricity or internet. Yet she persevered, created resources and spoke of the needs of others amid her own personal and community disaster.
Sadiqa Reynolds is the President and CEO of Louisville Urban League in Kentucky. Her appointment made her the first woman to hold this title in the affiliate's 95-year history. She has previously served as Chief for Community Building in the Office of the Mayor where she oversaw approximately 1,500 employees, a district court judge and a clerk for a Justice of the Supreme Court in KY.  Sadiqa is a powerful advocate for people who are homeless and poor. She believes deeply in their abilities and refuses to allow their dignity to be trampled.  She works tirelessly to help marginalized populations in attaining social and economic equality through direct services and advocacy.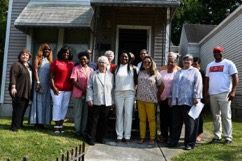 It is no wonder that the Sisters of Charity of Nazareth partnered with the Louisville Urban League in June of 2021 with a $2.5 million dollar investment in the Louisville Urban League and its "A Path Forward for Louisville." This investment will allow for 50 vacant and abandoned properties in the west end to be rehabilitated into affordable rental units over the next three years. In addition, each unit will be outfitted with energy-efficient doors, windows, insulation, HVAC, and appliances in an effort to minimize utility costs for renters, lower the Urban Heat Island effect, and reduce global warming. Rehabilitation work will begin immediately, and units will be available for rent later this year.
Rose and Sadiqa are humble, self-less women.  They embrace the cry of the poor and walking with people who are poor, are building a better world.  These women are powerful, provoking and inspirational.  Both these women sent a clear message that we must move beyond the income-based approach to poverty that has failed to address the inequalities and discrimination, to a multidimensional approach. I thank Rose and Sadiqa for encouraging me to listen to and look at what people living in poverty can contribute to society, a more inclusive society. I am committed to work, as these women suggested, toward building trust, and toward imaginative and universal approaches to alleviate poverty. Women making history, standing on the shoulders of sisters who came before makes my soul come alive.
Celebrate women, celebrate women making a better tomorrow, celebrate spring!
MaryAnn Dantuono, AIC-International NGO Representative to the UN