Your Vincentian Family NGO Representatives at the UN wish you all a blessed and peaceful new year!
Here we are, less than a week away from entering a new decade. My new year's wish is that persons experiencing homelessness will receive the assistance needed to find a home which is nurturing, warm, and secure.  I had a tiny sliver of a glimpse into the world of sleeping rough, December 7, during the World's Big Sleep Out, which occurred in Times Square, New York, and throughout the world.  (There is no way to actually assimilate what persons without homes experience every day).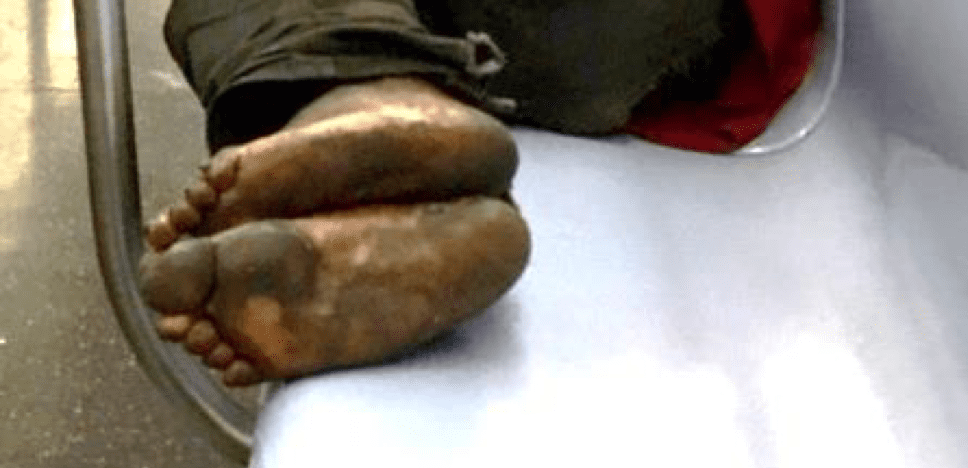 There I was, flopping around to find a comfortable sleeping position on the cold cement and burrowing deeper into my sleeping bag surrounded by an orange plastic bag designed to keep out moisture. Joining others from the NGO Working Group to End Homelessness, I was nestled in the shadows of the Fr. Francis Duffy statue in Times Square.  My prayer was that Fr. Duffy, who carried injured soldiers to safety in the combat zones of World War I, would intercede for those who battle homelessness today, and that the collective efforts of an estimated 5,000 people world-wide would ease the experience of those who sleep on the streets every night.
Today, December 26, many are enjoying a late sleep, testing out new gadgets received at Christmas, making creative concoctions from leftovers, and basking in the warmth of family time.  Of course, I will be doing the same.  But I'll also be reflecting on the gifts of the bygone Advent Season, one of which was participating in the World's Big Sleep Out.
MOTIVATION
Yes, part of my motivation for participating in the Sleep Out related to the adventure of essentially camping out in the hubbub of what is sometimes called "The Crossroads of the World."  Denying that I was too old to do it also served as a compelling reason to try on a very cold night.   ("You're going to catch a bad cold," I was told).  My work in advocating at the UN for policies which better address homelessness also drew me to the experience.  (Sustainable Goal 11.1, which calls for, "By 2030, ensure access for all to adequate, safe and affordable housing and basic services and upgrade slums)."
But the strongest motivators were the people I see daily on the streets of New York, struggling to get by.  Prominent in my head was a man whom I saw sleeping in a subway car in October, 2018.  It was a cold day and he had no shoes.  If his worn soles could speak, they would have said volumes about the rugged journey this man must have been walking.  I could only imagine him hobbling over sharp stones, through puddles, and trudging miles over gum and spit-ridden sidewalks.
Echoing in my brain also was voice of a woman who often begs near the 42nd Street entrance to the 7 train with a sing-song appeal,  "Any help, ma'am?  Any help, sir?"  And the old woman who rests on a bench with her belongings in a shopping cart near our office, but who would never admit to staying in a shelter.
I thought, also, of people held for ransom at the border while awaiting asylum hearings.  Or the millions fleeing Venezuela to find food and hope.  Or those displaced by intense storms and drought.
EXPERIENCE
It was 26 degrees, cold enough to keep me hibernating in the sleeping bag most of the night.  I was camped near a spot where an apparent previous reveler had vomited and cleaned up the site.  Yuck!  The cement was chilling. My hat kept tugging off, making my ears cold.  The noise of honking horns, merry makers, and sirens interrupted attempts at sleep.   And it felt odd to have hundreds of tourists staring at us as they strolled along with cameras.  It was ironic that a gigantic "Frozen II" character stared at me from overhead advertising while all of us were, literally, freezing!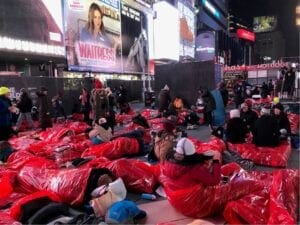 I wondered how persons without homes can feel warm and secure enough to get a decent night's sleep, maintain some semblance of health, accomplish simple self-care such as brushing their teeth, and still be alert for the next day's activities.  Another question related to the lack of empathy of a church I attend quite often which features a sign upon entry reading, "No sleeping." (God grant endurance to those on the receiving end of long homilies, as well as those who seek refuge to nod off in safety for a bit).
Let me be clear in making no claim to have experienced what persons who are without homes go through every night.  I had a sleeping pad, sleeping bag, pillow, and the plastic bag to keep out rain or snow (we didn't have to worry about that).  Persons sleeping on the streets would probably be using cardboard and various donated blankets that might not keep out the cold.  I worried about the cleanliness of a porta potty.  But they are usually conspicuously and inconveniently absent from Times Square when tourists and persons without homes alike need them most.
Nearby was a shop and I had a few dollars in my pocket if I wanted a hot cup of coffee to get my blood circulating.  I didn't have to bear a cardboard sign reading "desperate" or shake a cup while asking for some spare change while bearing the judgmental stares of others.
There was access to a warming tent staffed so kindly by UNICEF USA personnel.   I was surrounded by about ten friends, which created an encouraging community.  And Will Smith read me a bed time story, reciting the story of the Fresh Prince of Bellaire, with audience participation. Some lighthearted fun which might be absent for many persons without homes. Most significantly, I had security.  New York Police ensured we slept peacefully.  Thank you to New York's finest.
INEQUALITIES
Staring up at the skyscrapers above me during the Sleep Out, I couldn't help but think of inequalities.  They are prevalent in New York and nowhere is the contrast so evident than in the arena of housing. A one bedroom apartment in New York is said to rent for about $2,098 per month, or 25,176 per year. At the same time, I read that one New York penthouse sold for $98 million!  That amount could pay for housing for almost 3,900 people for a year!
According to the Coalition for the Homeless, homelessness in New York has reached the highest levels since the Great Depression. In September 2019, there were 62,391 homeless people, including 14,962 homeless families with 22,083 homeless children, sleeping each night in the New York City municipal shelter system. Families make up more than two-thirds of the homeless shelter population.
I was further overwhelmed by commercialism, as digital advertising promoted jewelry, makeup, clothing, and much more.  Apparently, it costs between $1.1 and $4 million a year to buy advertising space in Times Square.   Again, a few families could have shelter for a year at that price.
Penetrating more deeply than the cold was the question, "When might we ever shift from the commercialization of everything (which focuses upon profits to be gained from things like housing) and return to valuing things for their social utility?)"   Perhaps when that happens, people may regain a sense of dignity and fewer will be sleeping on the street because affordable housing and a sense of neighborhood might be restored.
ORGANIZERS
The World's Biggest Sleep Out was organized by Josh LittleJohn, MBE, who appeared in Times Square that night.  The Sleep Out was run in partnership with the Institute for Global Homelessness (IGH), UNICEF USA, Malala Fund and Social Bite.   Of the profits received, half will go to addressing homelessness in the various cities where Sleep Outs occurred, and half will go to address the needs of the 70.1 million people globally who have been displaced through war, disasters, and poverty.