It's always timely to talk about charity. But with what novelty can we approach this subject, even more so for an audience as knowledgeable in the matter as the Vincentians? Let us begin with a biblical passage suitable for this context. St. Paul, after listing the various charisms (such as wisdom, science and the gift of healing), expressed himself in this way: "Earnestly desire the best gifts. Moreover, I show a most excellent way to you. […] If I give away all my goods to feed the poor, and if I give my body to be burned, but don't have love, it profits me nothing."[1] Without charity, we are nothing. Charity is eternal, divine and will never end, as the apostle assures us.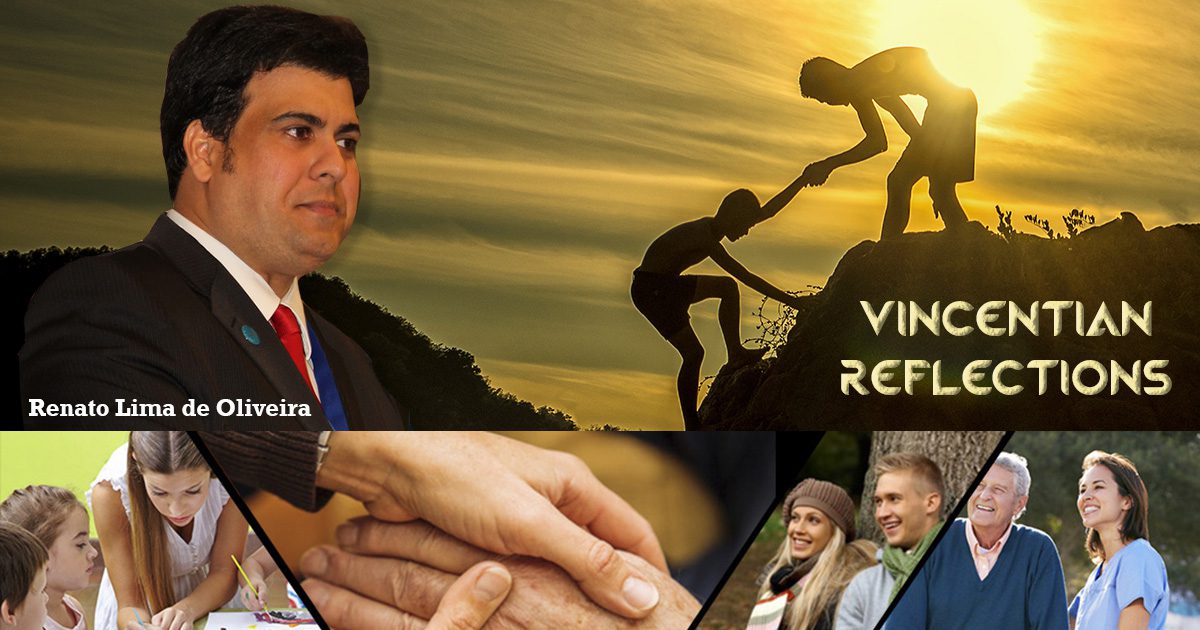 Charity is one of the three theological virtues (besides faith, through which we know God, and hope, through which we fully trust in God). Through it we enter into the true love of God. Charity, however, cannot be seen only in terms of virtue, but as a way of expressing God's love for each one of us and, above all, for the poor.
In other words, to manifest charity in our lives, besides living in a "constant state of grace," we must concretely demonstrate love of neighbor. Saint Vincent de Paul, Ozanam and the other saints of the Vincentian Family followed Our Lord Jesus Christ very closely, having charity as the essence of their Christian lives.
Saint Vincent, throughout his life, was ready to help his neighbor, because he considered himself "an instrument of God's grace." This is the reason he was proclaimed by the Church "Universal Patron of Charity". His heart was always pure and ready to help. And here is the holy way shown by Vincent for today, when the culture of selfishness and consumerism seeks to destroy the divine. Saint Vincent was not only a wise man, but also a charitable saint, who achieved, with simple gestures, his own conversion and sanctification, leaving countless examples for us, his "spiritual children" of the 21st century.
Ozanam was also a man of "full of charity," from infancy to death. How much he resembles Saint Vincent de Paul! Ozanam always managed to see the face of Christ in the faces of the poor, and he always sought to let Christ be reflected in the faces of the Vincentians themselves. Perhaps this is the greatest challenge that Ozanam proposes for our lives. He was a charitable child and a young and loving adult. He was affectionate throughout the time of his brief existence in the world. And he left us many inspirations, all based on concrete actions in favor of the poor.
Charity manifests itself in various ways. But the most effective and transforming is through action. The opposite of charity, from this point of view, is omission and empty criticism (that of that kind of people who only speak badly and do nothing to change reality). Thus, in order to love God in the person of the poor we need to adopt a posture and a mystique of action. Charity is action. Charity is acting.
One of the clearest biblical passages on the effectiveness of Christian charity is found in the allegory used by James: "What good is it, my brothers and sisters, if someone claims to have faith but has no deeds? Can such faith save them? Suppose a brother or a sister is without clothes and daily food. If one of you says to them, 'Go in peace; keep warm and well fed,' but does nothing about their physical needs, what good is it? In the same way, faith by itself, if it is not accompanied by action, is dead."[2] St. Paul exhorts us: "let's be sober, putting on the breastplate of faith and love, and for a helmet, the hope of salvation."[3]
Belonging to the Society of Saint Vincent de Paul, or to any other branch of the Vincentian Family, is a blessing, because we have the opportunity to live charity together with the person of the poor, with disposition, joy, truth, solidarity and hope in systemic change. We need to combat laziness, discouragement, omission, indifference and hopelessness. Our goal must always be to trust in Divine Providence.
We cannot end this reflection without speaking of the most important aspect of the practice of charity: the search for sanctification. Through the practice of charity, we also strengthen ourselves spiritually for our salvation. In addition to concrete actions in favor of the poor, along with a life of prayer and frequent approach to the sacraments, we will achieve our personal and community goals.
Finally, kind readers, it is never too much to remember that the "most important work" of God, our Lord, was to create human beings in His likeness. Thus, first of all, to love God means to "love his works", that is, to love our neighbor, our brothers and sisters. We must love ourselves and others with the same intensity that we love God.
Notes:
[1]     1 Cor 12:36.13:3.
[2]     James 2:14-17.
[3]     1 Tes 5:8.
Renato Lima de Oliveira
16th General President of the Society of Saint Vincent de Paul