We continue to share a series of reflections made by Vincentian Lay Missionaries and Vincentian Mission Corps participants about their experience serving, how it has impacted their lives and how they continue to live the Vincentian Charism today.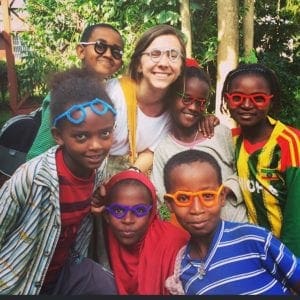 I became a Vincentian Lay Missionary in 2015 through a trip to Jimma, Ethiopia. There were two notable takeaways from my VLM experience that continue to influence me to this day. The first being the invaluable experience of what it felt like to be an outsider or a minority. In Africa, I was the odd one out. The only people who looked like me or shared a cultural understanding with me, were my three traveling companions. I had dreamed of international service in Africa since I was 12 years old. I was enamored by their vibrant culture and people-oriented values, such as family and community. Even though I greatly admired their culture, I did not fit into it as easily as I thought I might. I found myself living in a world completely opposite from the one I had known my whole life. There were many moments during my stay that I longed for what I knew as familiar: the people, food, culture, and just general daily life navigation. It was during this trip that I understood that every immigrant and refugee in the United States feels this way-with some not even having the option to return home.
The second major takeaway I had from my experience was that we can do some of the most impactful work right in our own backyards. When asked about my experience, I often go on and on about the daughters stationed in Jimma. I was blown away my their graciousness, humor, but most importantly: their level of impact. Through the help and support of the international community of The Daughters of Charity, these women can directly improve their community's access to life's crucial needs like water, healthcare, education, whereby the government may not be able to fully provide these needs. I knew that I would not move to Jimma long term, so I had to ask myself "How can I serve in my own backyard?" At the time I was preparing to enter into my last year as an education major at the University of Dayton, and not long after I would enter the workforce. Because of my experience in Ethiopia I knew that the children I would serve would either be ESL students who are trying to learn English and acclimate to American culture, or urban school children who are often overlooked by policy-makers and society.
Today, I am an English teacher on the south side of the city of Chicago. The work is challenging, but more importantly, worth it, as I fight to serve those in most need within the city I live. As Desmond Tutu once said "Do your little bit of good where you are; it's those little bits of good put together that overwhelm the world."