Below are excerpts from an article by Dan Stockman featured in the Global Sister's Report. To read the entire article, click here.
An Adrian Dominican sister spent a year poring through the congregation's archives under the direction of the order's leadership team, trying to document a policy, a procedure, a decision — anything, really — that would show why the community had so few Black sisters.
She dug through more than 145 boxes of records but found nothing, not even statistics on how many Black women had tried to enter the community and either were turned away or changed their minds.
"To our credit or stupidity — or unconsciousness, probably — we didn't record people's race," Sr. Pat Siemen, the congregation's president, said of the 2018 document search. "We were more interested in whether people had a baptismal certificate than we were in their race."
Finally, two things became clear: The archives weren't going to yield what the leadership council was looking for, and there were a couple of numbers that were an inescapable truth beyond any statistics that old records might reveal.
"After 135 years — at one point, we had 2,500 sisters — we've had only six [professed] Black sisters in our history, and only two Black sisters today," Siemen said — four left the congregation after final vows. "There are certain obvious conclusions one comes to."
Congregations across the United States are undergoing similar examinations, spurred first by historian Shannen Dee Williams' address to the 2016 Leadership Conference of Women Religious assembly and with a new urgency after a police officer's murder of George Floyd in May 2020.
For many communities, sisters' efforts to eliminate racism are beginning by first addressing their own failures.
"We as women religious are absolutely called to this work. It's fundamental to who we say we are, and the first step is to revisit our history, all our collective history and our specific history," said Sr. Elise García, also an Adrian Dominican and the current LCWR president. "We have to admit and recognize the ways we have been complicit in this."
…
'We have all benefited in the most terrible way'
Some congregations have already done a deep dive into their pasts despite knowing they would find the worst behavior imaginable: owning enslaved people.
In the fall of 2016, just weeks after Williams' address to LCWR and four months after The New York Times publicized the fact the Jesuits had owned enslaved people, the Society of the Sacred Heart, known as the Religious of the Sacred Heart, convened a committee to examine the society's role in racism and enslavement. The fact that the sisters had once owned 150 enslaved people wasn't hidden, but it also had not been looked at in detail. Until 2016, the community had no desire to open those books.
The Sacred Heart committee's work, which resulted in a 2018 gathering of descendants but still continues, came nearly two decades after a similar effort begun by three congregations in Kentucky that had enslaved Black people: the Sisters of Charity of Nazareth, the Sisters of Loretto, and the Dominican Sisters of St. Catharine. (In 2009, the Dominican Sisters of St. Catharine became one of the seven congregations that merged to form the Dominican Sisters of Peace.)
In 2000, the three congregations gathered at a church in Bardstown, Kentucky, which had been built by enslaved people, and asked the descendants of the people they had owned for forgiveness.
That wasn't the first time the Sisters of Charity of Nazareth had gathered with the descendants. In 1912, 47 years after 30 people were emancipated from forced labor for the congregation — nine had already run away to join the Union Army in the Civil War — more than 150 former enslaved people and their families returned to Nazareth for the congregation's centennial celebration, where they were feted with tours, a big dinner and a dance.
"They maintained a relationship with the families over the years," said Sr. Theresa Knabel, who did extensive research on the congregation's slaveholding for its bicentennial in 2012. "It was a whole daylong celebration. … They're still considered very much a part of us."
Congregations who owned enslaved people face a dilemma: How do they recognize and commemorate the work enslaved people did — work that often meant the survival of the congregation — while acknowledging that work only happened because they were held in bondage and treated as property?
While Southern states did not recognize Black people owned as slaves as humans, meaning few official records exist, religious congregations, including the Sisters of Charity of Nazareth and the Society of the Sacred Heart, scrupulously kept sacramental records of baptisms and marriages.
The Nazareth sisters say there is no record their sisters bought or sold humans themselves: They were either given by the families of women entering the order or were born to people already enslaved there.
But "it doesn't undo the reality," said Sr. Adeline Fehribach, one of the Sisters of Charity of Nazareth's vice presidents. "It's like it never goes away. It will always be there."
For the Nazareth bicentennial in 2012, a plaque and monument to their forced work was dedicated, and a headstone with the names of the 28 buried there was placed. Knabel is now working on a permanent exhibit on that part of the congregation's history for the Heritage Hall in the motherhouse.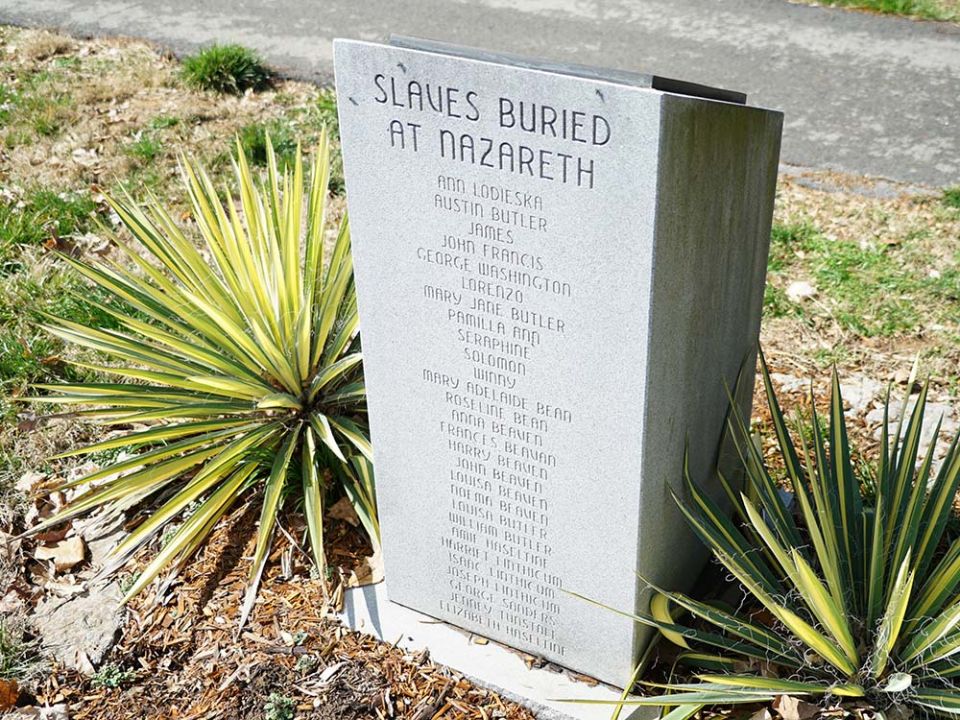 Similarly, the 2018 event held by the Society of the Sacred Heart was planned by the descendants of the enslaved people. The family tree the sisters were able to build from their records was put online for anyone wanting to study the genealogy. New gravestones were installed and a plaque listing the names of those enslaved by the sisters was put on the former slave quarters, which still stand at the convent in Grand Coteau, Louisiana.
Sacred Heart Sr. Maria Cimperman was at the meeting where the decision was made to research the congregation's ownership of slaves.
"It was one of the most solemn gatherings I have ever been in," she said. "We have all benefited in the most terrible way from enslaved people's efforts. We're all beholden to them."
Before her congregation began its work, Cimperman was in Canada, working on that country's reconciliation efforts with the First Nations people over religious boarding schools, so she understood the research would only be the beginning of a long journey.
"These are sacred conversations we're being called to," she said. "This is going to take my lifetime. This is going to take generations. Right now, we can't talk across our divides. We need to recreate our structures."
That need to talk across divides took on more urgency after Floyd's murder, which led to "A Call to Transformative Love in Religious Life: Stories of Race, Place and Grace," an online event in three sessions in the fall that included Black religious telling the stories of what they went through when they joined white congregations, an examination of congregations that owned enslaved people, and how to transform congregations to be more welcoming. Cimperman is director of the Center for the Study of Consecrated Life at Catholic Theological Union in Chicago, which co-hosted the series with the National Black Sisters' Conference.
Floyd's death prompted Cimperman to ask herself what religious are called to do in the fight to dismantle racism. The answer, she said, was to begin by examining their own role in perpetuating it. Another set of online sessions in March included one titled "Owning Our History: Race and Racism in the History of the Catholic Church."
"We're still fighting over what's in our history books," Cimperman said. "Reconciliation is both a choice and a grace. It's different from forgiveness. I may forgive you but never again speak to you. But reconciliation is building a new relationship."
To read the entire article, click here.