Forty-two participants from nine Vincentian Family branches met for the 12th Annual Gathering of the Major Superiors and Heads of Vincentian Family India at Gopalpur-on-sea, Berhampur, Odisha (3- 4 March 2018). Rev. Fr. Vijoy Kumar Nayak CM, as the Host, welcomed everyone. The inaugural address, delivered by Rt. Rev. Msgr. Simon Kaipuram CM, explored the relevance of "Vincentian Spirituality and Evangelization of the Poor" for both spiritual poverty and material poverty. Very Rev. Fr. Sebastian Thundathilkunnel VC, Superior General, followed with the first input session: the need to identify with the person of Jesus and a radical option for the most poor where each one has to find a personal way of life to be at the side of the poor in the modern world. The Holy Mass followed the interaction after this session.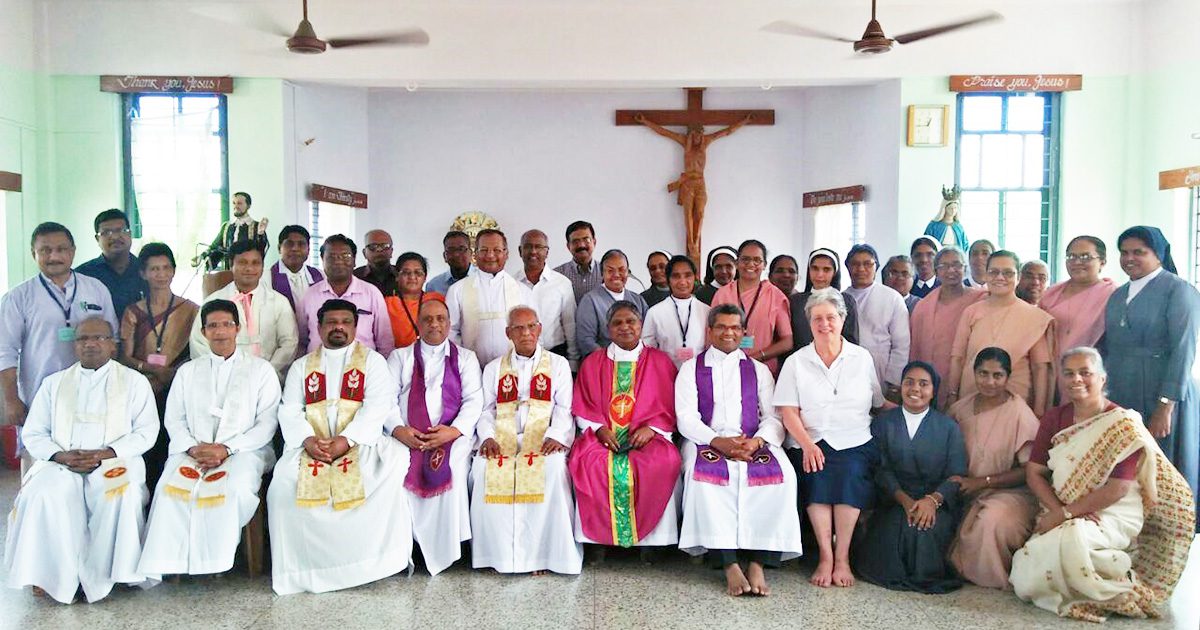 After Lunch Brother Professor Joseph Pandian, Vice-President General of (Society of St. Vincent de Paul (SSVP), developed the theme: 'Vincentian Spirituality: A lay perspective'. He reviewed the challenges for Christianity in India that includes its present diminishment and decline. He asserted that by drawing closer to the poor, we draw closer to God. In the evening, members gathered for a Common Sharing – an interaction with Sr. Marge Clifford DC from the Vincentian Family Office in Philadelphia (USA). After supper, the Executive Body met and evaluated the progress of Vincentian Family India (VFI) including the establishment of a National Secretariat at Bangalore and its registration as a Trust.
The second day was fully devoted for various official business meetings. The National Coordinator, Rev. Fr. Francis Puthenthayil CM in his welcome speech and introductory remarks called for solid deliberations during the meeting and the need for concrete plans for the effective evangelization of poor. Rev. Sr. Sangeetha SCN (Asst. Superior General), Fr. Vijoy Kumar Nayak CM (Visitor, North Indian Province) and Rev. Fr. James Chelapurath VC respectively moderated the sessions. The four Regional Coordinators present offered their reports on various regional activities. Afterwards, the Commissions presented reports on various activities, programs and seminars that they organized. An evaluation of the VFI followed. The agreed upon Action Plan for the coming year includes changing a riot-affected village in Khandamal, Odisha into a 'model village' to serve 'each according to the capacity and each according to the need'. Systemic change principles and strategies will be included in this project. The members also decided to continue the observation of September 22 as a 'Day of Prayer & Fasting.' Sr. Sangeetha, SCN proposed the vote of thanks for all present and contributors to make this day successful.