The convent chapel in Mokama looked colourful with the summer flowers from Mokama and from the Darjeeling Hills on the special occasion of the First Vows of Monica Tudu, Nitya Toppo, Prema Tudu, Ranjita Baa and Snehlata Murmu and the Final Vows of SCNs Anita Murmu (Sr.), Mukta Marandi and Ringemit Lepcha on May 12, 2018. Nothing could dampen the festive spirit in spite of the daytime temperature of 45-degree centigrade (113°F!).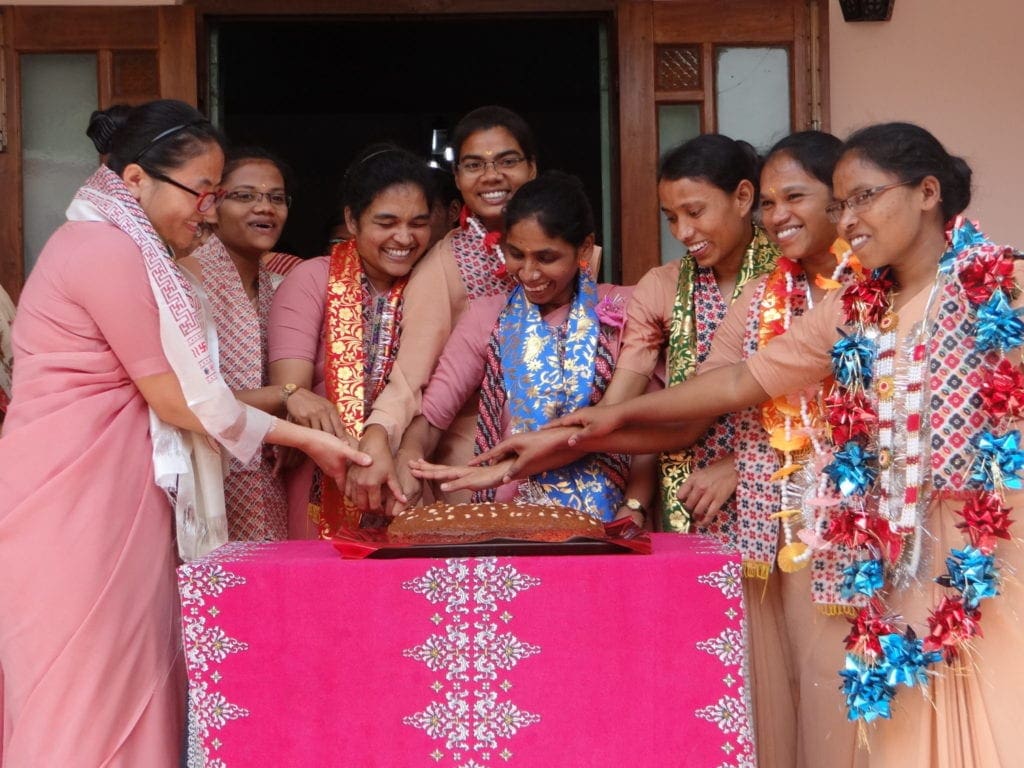 With their parents/guardians, the Sisters who are making their Vows processed to the altar to the accompaniment of an entrance dance by the novices and candidates from the main door. To add to the festivity, dancers came in from two other directions also. SCNs Sangeeta Ayithamattam, vice president, Philomena Kottoor, provincial, Amelia Moras, vice provincial, Josita Eniakattu, tertian director and Suchita Kullu, novice director and the priests and the main celebrant followed them. The main celebrant, Most Rev. William D'Souza, SJ, archbishop of Patna, presided over the Eucharist with thirteen other priests.
In his homily, the archbishop referred that religious vocation is God's plan. He highlighted what Pope said, "A vocation is a gift we have received from the Lord, who fixed his gaze on us and called us, calling us to follow him in the consecrated life." The archbishop also quoted St. Vincent de Paul that one who wants two buckets of water, draws two buckets of water and one who wants six buckets of it draws six. In the same way, the more I need the more I ask from God. The measure that I reach out to the people, the measure God anoints me to serve others. He also said that we cannot ration the Spirit of God; it has to be given freely in love. He further quoted Pope Francis that religious life is a prophecy, proximity, and hope. Prophecy is to discern what the church/world expects of us, religious. It is to make God known more and more and we become a reflection of God in this world. Proximity nurtures intimacy with God and Jesus becomes a personal Saviour through our daily prayer. And as a consecrated religious we are called to be a beckon of hope to those who need us.
Sister Sangeeta received the Vows on behalf of Susan Gatz, SCN, president, of the Congregation and Sister Philomena welcomed them officially to the SCN community.
There were more than 300 people including relatives, friends, SCNs, SCNAs, friends, and priests. And all present had the festive meal.