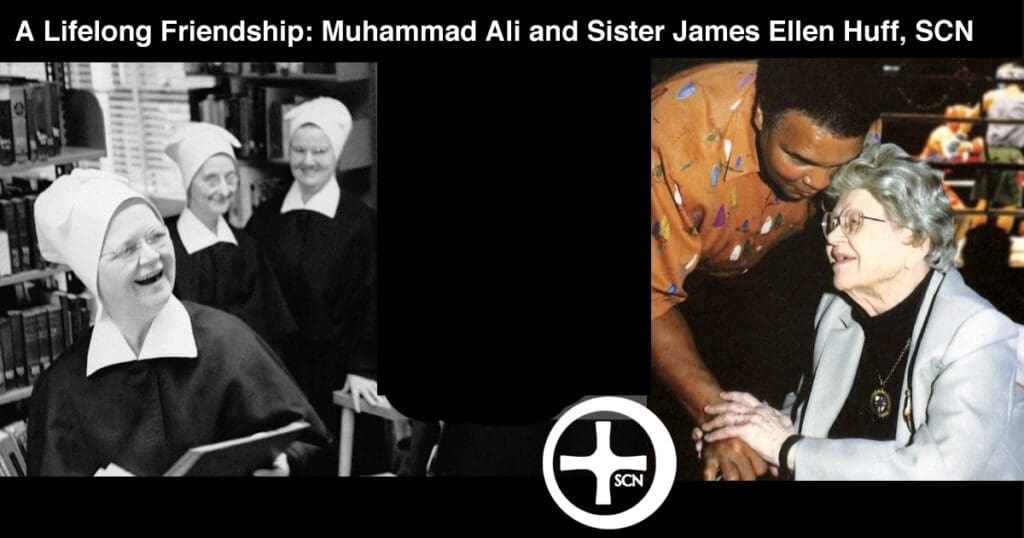 As Muhammad Ali was laid to rest yesterday Sisters at the Motherhouse in Nazareth, Ky., watched the coverage, while others in Louisville, lined up to pay their respects. Since the announcement of Ali's death and in the days that followed, the Congregation has been holding the family in prayer.
As a teenager attending Central High School, Ali, and James Ellen Huff, a Sister of Charity of Nazareth, developed a close friendship. Sister James Ellen ran the library at Nazareth College (now Spalding University) across the street from the gym where Ali spent his days boxing. Sister James Ellen hired Ali, who at that time used his birth name of Cassius Clay, to work in the library so he could earn a little money. She said he liked his "zest." She was known to often give Ali encouragement, frequently share laughs, and even return from dinner with snacks for him before he went to train. Once she found him asleep on a long library table! After the world came to know him, she put a sign over the table that read, "Cassius Slept Here."
Ali and Sister James Ellen are described as kindred souls and when Ali won the gold medal in the Olympics, she was one of the first people to whom he showed his medal. The two would remain lifelong friends exchanging letters, and phone calls, until Sisters' death in the early 2000s. Miriam Corcoran, SCN, gave the eulogy at Sister James Ellen's funeral. Sister Miriam recalls some of her conversations with Sister James Ellen about her close friendship with Ali.