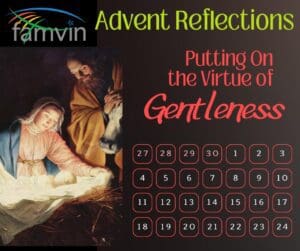 Putting On the Virtue of Gentleness
December 2, 2022
Gentleness is linked with respect for the human person. St. Vincent often links gentleness and respect.1 He tells the Daughters of Charity that there is no such thing as charity without gentleness and respect for the other.2 He urges Robert de Sergis to treat the domestic help gently, cordially, and with profound respect.3 In a conference to the Daughters of Charity, given on August 19, 1646, on "The Practice of Mutual Respect and of Douceur," St. Vincent encourages them to give themselves to God by respecting one another. He notes that this will not be easy, and for that reason asks them to join with him in a prayer4: O my God, I desire from the bottom of my heart to be gentle and respectful toward my sisters in order to please you, and once more I give myself entirely to you to strive to acquire these virtues in a manner quite different from the way I have acted up until now. But, as I am weak and can do nothing that I have resolved to do without your special assistance, I beseech you, O God, by your beloved Son Jesus, who is love and gentleness itself, to grant me those virtues, together with the grace of never doing anything contrary to them.
1Cf. CCD I, 88; VII, 590-91; VIII, 227; IX, 260ff.
2CCD IX, 260.
3CCD I, 354.
4CCD IX, 269.
Source: Fr. Robert P. Maloney, C.M. A Further Look at "Gentleness"
Let us pray

Amen! St. Vincent de Paul, pray for us!
---
Scripture
…to speak evil of no one, to avoid quarreling, to be gentle, and to show every courtesy to everyone.
Titus 3:2