September 26, 2023
FOR IMMEDIATE RELEASE
Society of St. Vincent de Paul Elects New National President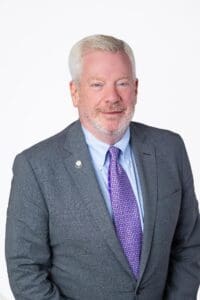 John Berry of Atlanta, Georgia, has been elected as the 14th National President of the National Council of the United States, Society of St. Vincent de Paul. His six-year term in office will begin October 1, 2023.
An experienced senior executive and tireless advocate for people in poverty, Berry served as Chief Executive Officer for SVdP Georgia for 14 years before retiring in 2020. In his work there, he championed national, state, and local efforts to fight poverty, dependence, and need. In September 2020, he founded Berry Consulting Solutions, LLC; consulting experts in Nonprofit Board Governance, Organizational Dynamics, Strategic Planning, and Development & Fundraising.
During his 14 years at SVdP Georgia, Berry led an organization that impacted poverty by hundreds of millions of dollars. Berry is a vocal advocate at the National and State levels, working with Congress and the Georgia State Legislature on issues related to children, families, the poor, and those at the margins.
Berry's role at SVdP Georgia followed his successful 25-year business and federal government career, beginning as an engineer in the commercial nuclear power industry and leading to senior executive management positions with Fortune 100 companies in the nuclear power, environmental engineering, and high technology sectors, which included extensive international experience in Asia, Europe, and the Middle East.
An active member of the Society of St. Vincent de Paul since 1996, Berry's presidency will focus on growing and expanding the Society's membership, with a special focus on diverse communities, youth, and young adults. He wants to create an inclusive Society that provides opportunities for everyone to grow in holiness and friendship through service to those in need.
"As National President of the Society of St. Vincent de Paul," he says, "I will work tirelessly with all our Conferences and Councils to ensure that we remain a vibrant and relevant ministry service those who need our hands, our voice, and our love."
FOR MORE INFORMATION, CONTACT
Jill Pioter
National Council of the United States, Society of St. Vincent de Paul
66 Progress Parkway, St. Louis, MO 63043
phone (314) 576-3993, ext. 204
jpioter@svdpusa.org