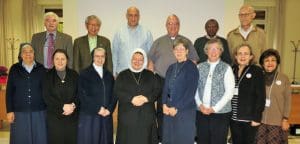 On January 5 and 6, 2017, the members of the Vincentian Family Executive Committee (VFEC) will hold their annual meeting in Philadelphia, PA, USA.  The meeting will take place at the headquarters of the newly-created Vincentian Family Office on the grounds of St. Vincent's Seminary in Germantown. For the first time in its history, this meeting is being held outside of Europe.
The VFEC, whose membership consists of a core group of four branches and a rotating group of three branches, meets annually. The core group contains the three branches directly founded by Sts. Vincent and Louise, viz. the first foundation known nationally as the Ladies of Charity and internationally as the AIC, the Congregation of the Mission, and the Daughters of Charity, as well as the Society of St. Vincent de Paul. The current rotating branches are: the Sisters of Charity Federation of Strasbourg, the Brothers of the Congregation of Mary Mother of Mercy (CMM), and the Sisters of Charity Federation of North America. Each VFEC member branch is represented by two people: the international leader of that branch and an assistant of his or her own choosing.
This year marks the 400th Anniversary of the birth of the Vincentian charism.  With the assistance of a team of trained translators, the VFEC will focus on strategies to strengthen collaboration for an even more effective evangelization and service of those in need.
For more information on this meeting visit the Vincentian Family Office's web site at   //famvin.org/vfo-en/ , Facebook page at https://www.facebook.com/Vincentian.Collaboration, and Twitter https://twitter.com/VinFamOffice
---
Tags:
400th Anniversary
,
VFEC
,
Vincentian Family Office