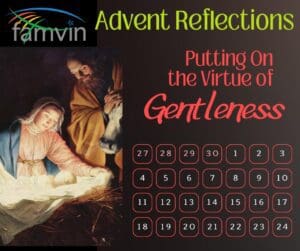 Putting On the Virtue of Gentleness
December 23, 2022
Conversation and dialogue will, in the lives of the gentle, be the primary means for settling conflicts, accompanied by suffering love. These are the tools that Jesus himself used; he himself is "our peace, and breaks down the wall of separation."1 If the community of his disciples has a genuine passion for dialogue, justice, and peace, then it is a clear sign that the Kingdom of God is at hand.
1Eph 2:14.
Source: Fr. Robert P. Maloney, C.M. A Further Look at "Gentleness"
Let us pray

Lord, we pray that our Vincentian Family throughout the world may be a sign of Your Kingdom.
---
Scripture
He was oppressed, and he was afflicted,
yet he did not open his mouth;
like a lamb that is led to the slaughter,
and like a sheep that before its shearers is silent,
so he did not open his mouth.

Isaiah 53:7