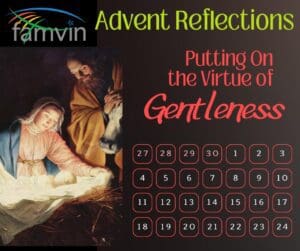 Putting On the Virtue of Gentleness
December 4, 2022
Gentleness should be accompanied by firmness (continued). Vincent returns to the same theme in writing to Etienne Blatiron, the superior at Genoa, on September 9, 1650,1 as well as to Louis Dupont, superior at Tréguier, on February 16, 1656.2 Using a classical axiom in a letter to Denis Laudin, on August 7, 1658, he encourages him to imitate the spirit of Our Lord who is equally "suave et ferme".3 St. Vincent summed all of this up quite carefully in his advice to a seminary director4: We must be firm but not rough in our guidance and avoid an insipid kind of gentleness (une douceur fade), which is ineffective.
1CCD IV, 75.
2CCD V, 552.
3CCD VII, 226.
4CCD IV, 597.
Source: Fr. Robert P. Maloney, C.M. A Further Look at "Gentleness"
Let us pray

May we learn from You, Lord, how our gentleness should always be accompanied by humility and grace, so as to attract hearts to You and not cause anyone to turn away from You.
---
Scripture
I therefore, the prisoner in the Lord, beg you to lead a life worthy of the calling to which you have been called, with all humility and gentleness, with patience, bearing with one another in love…
Ephesians 4:1-2