I have never written anything like a play. I probably never will. But I thought of the outline of a play about "walking together" as Pope Francis refers to synodality. Benedictine Lew Grobe's homily inspired me. (See video)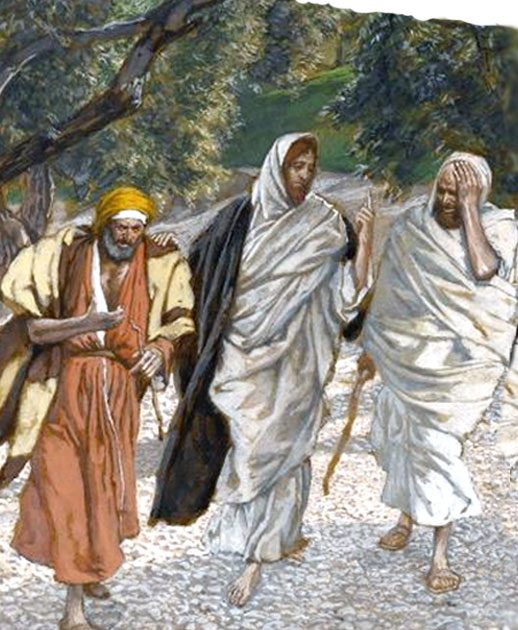 Emmaus as walking together in faith
As I read his homily I was struck by the parallels he discovered with the journey to Emmaus. Here are key excerpts …
"Synodality is a big deal because it refers to the way or the process for how decisions are to be made in the Church. This may be an overstatement, but synodality would be a paradigm shift to our way of being church."
Act One
"In Luke's account of the road to Emmaus we meet two disciples, leaving Jerusalem shell-shocked and saddened at the crucifixion and death of Jesus…their hopes dashed…thinking that all was for naught."
Act Two
"As they are talking about these tragic events of the past few days Jesus draws near and simply walks with them, takes the time for a real encounter…even though they are going the wrong way.
"Notice that Jesus doesn't simply start with a solution, telling them turn around, but walks with them in their doubt and pain, and draws near.
"This is what Pope Francis calls the art of encounter, a hallmark of synodality. Not staying at a distance but drawing near even to those who are moving away from the community."
It struck me … Jesus has just risen from the dead and what does he do in those first few hours? He listens to two people who are going the wrong way. He encounters and listens.
Then, and only then, does Jesus help them to make connections with what they knew in their tradition but did not understand.
Act Three
They begin to sense something stirring in them
"As these two disciples dialogue with Jesus and speak about the word of God they start to discern a path forward. They feel their hearts burning within them…the work of the Holy Spirit."
"As they share a meal with Jesus, it dawns on them what they need to do. And they make the decision to turn around – not because Jesus commanded them or said it would be a good idea, but because they have discerned it together through their encounter with Jesus. Through the synodal process.:
In the end, this is how Pope Francis looks to lead the Church into the third millennium.
Think about all this … he wants each of us to share our own confusion and hear one another's pain and confusion. Together he wants us to listen to the Spirit poured out on Pentecost.
Who knows where it will take us? As we listen, we will once again discover it is not about us and our pet ideas. It is about the Good News of Jesus.
Francis, as Jesus earlier, is urging we open our hearts to Jesus' present today.
A synodal journey in three acts
Act 1 – Setting the stage
Trying to make sense of their feelings
Act 2 – Encounter with Jesus
Draws near – takes initiative

Doesn't tell them about the resurrection

Then connects their experience with what they knew of God's plan but did not understand
Act 3 – Breaking Bread together – Disciples transformed!
Jesus leaves them figure out what they need to do

They realize they have a mission – tell the good news
Epilogue
See the Acts of the Apostles
Originally posted on Vincentian Mindwalk