Keeping the flame of the Vincentian charism burning has been a challenge during the pandemic. Meetings, gatherings, pilgrimages and many other events were canceled in the name of the health of our confreres, associates and those we assist.
Now more than ever, the flame of faith, hope, and the Vincentian spirit must not only be maintained and sustained, but fostered. We cannot remain passive. Staying at home must challenge us to ask: How can we do more?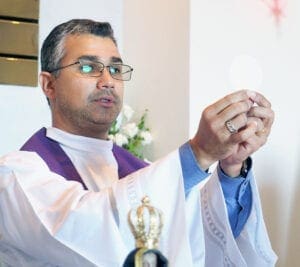 According to Spiritual Advisor, Father Emanoel Bedê Bertunes, CM, this question has been debated frequently over the past few months. "With the pandemic, a crucial element of the work of the SSVP was changed— which is face-to-face contact with those we assist, the poor. The encounter with the Poor is something indispensable— a sine qua non condition— the core for us as Vincentians and essential to be faithful to our founder Frederic Ozanam. It is part of our identity as the Society of Saint Vincent de Paul. How can we visit those we assist during the pandemic? It is something that challenges us, tests us at this moment," he says.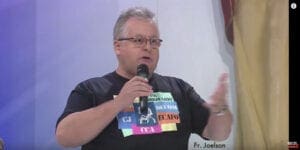 And how inventive our Spiritual Advisors are having to be. Father Joelson Cezar Sotem, who has delighted and taught everyone through his YouTube videos, offered some suggestions and tips at the start of the pandemic: "First: Let's remember what Saint Vincent said: It is necessary to set hearts on fire. Don't feel useless. You are still Vincentian. Do not stop blowing the embers … so that this flame remains lit. Pray! Sitting on the couch, remember your visits, remember your Poor. Pray for them. You may not even know how they are doing. For that very reason, pray, pray for them," he says. The second tip is as follows: "We have a custom from the Bible, where every seven years, the land was spared so that it could rest. It is called the Sabbatic Year. Today, some companies use this methodology to refresh their employees. This "gap year" is not a vacation. It is a time used to prepare, recycle, organize, study, evaluate, plan… to carry out later. Well then! We were all practically forced into this Sabbatic Year. So, are we going to take advantage of this time? What formation have you been looking for during this pandemic to deepen your Vincentian charism? What are your Vincentian readings? Which "live" online events did you participate in? What news will you have to present and what tasks to carry out in the near future?" asks Father Joelson. He concludes: "If you haven't done any of that, there is still time. We don't know for sure when this will all end. Most likely until the vaccine arrives everywhere. We still have time to experience our Sabbatic Year. The Spiritual Advisor can help each one of us to live this Sabbatic Year, emphasizing our Vincentian vocation. We took a break, but we are still Vincentians," he teaches.
Father Emanoel concludes by reminding us that the pandemic is for strengthening. "Dejection, disenchantment, pessimism, all these evils, are not good for our mind or our work, but instead let us be optimistic and always creative for this important and life-saving work that SSVP performs."

Source: https://ssvpbrasil.org.br/a-importancia-da-assistencia-espiritual-em-tempos-de-pandemia/
Note: Prayers are requested for Fr. Joelson Sotem as he is currently undergoing cancer treatment. Please pray for a miracle through the intercession of Blessed Frederic Ozanam.