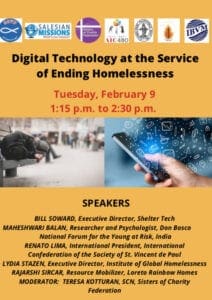 "Digital Technology at the Service of Ending Homelessness."  
Tuesday, February 9
Registration is available by clicking here
You will receive confirmation which speaks of the event starting at 1:00 p.m.  Registrants will be allowed into the event at 1:10 p.m. for a 1:15 p.m. start.
In a joint statement to the Commission on Social Development, the five Vincentian NGOs at the United Nations urged Member States and the Commission to "create a compassionate, fairer and interconnected world." Noting that, "COVID-19 lockdowns have accelerated the use of technology to work remotely, access healthcare, education, banking, shopping, public information and social interaction…," the Vincentian Family sadly emphasized that, "while digital technologies have the capacity to help advance social progress and overcome inequalities, the pandemic is shining light on the growing 'digital divide.'"
This month, the Commission for Social Development will discuss "Socially just transition towards sustainable development: the role of digital technologies on social development and well-being of all," particularly through the lens of the COVID-19 pandemic. From February 8 to 17, 2021, the 59th session of the Commission (CSocD59) will meet largely virtually for the first time ever. A variety of speakers, representing not only governments but also NGOs, businesses, municipal authorities, and academia, will share their experiences and innovative solutions that have used digital technologies to promote social development and well-being for all.  The delegates will give special attention to the impacts of the COVID-19 pandemic on the disadvantaged, marginalized, or vulnerable groups and communities.
Building on the successful advocacy to address homelessness in the 58th Session of CSocD, the Vincentian family continues to highlight the issues around this most virulent form of poverty. As part of the Vincentian Family advocacy and education at the UN, we are hosting a webinar event on Tuesday, February 9 at 1:15-2:30 pm ET and invite your participation. (Click the picture below to expand the flyer)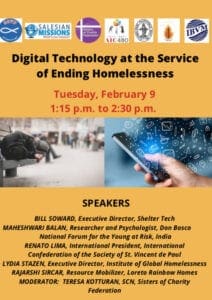 Please join the experts and discussants to explore how technology is currently used by persons experiencing homelessness, creative ways of using technology to enhance service delivery to persons surviving on the streets, and how technology can contribute to solutions for homelessness.
Maria del Carmen Squeff, Chair of the 59th Session of the UN Commission for Social Development stated, "Access to the internet should be a basic right that helps protect people's health, jobs and lives. Unfortunately, considerable gaps remain in realizing universal and affordable access to the digital world."
As a family, we continue to advocate to close the gap for the approximately 150 million persons globally living without homes and the 1.6 billion people experiencing inadequate housing, believing that with innovation, access and skill-building, technology can prevent, address and end homelessness. Our goal is to build forward better creating a compassionate, fairer and interconnected world.
By Mary Ann Dantuono, AIC
AIC NGO representative to the UN