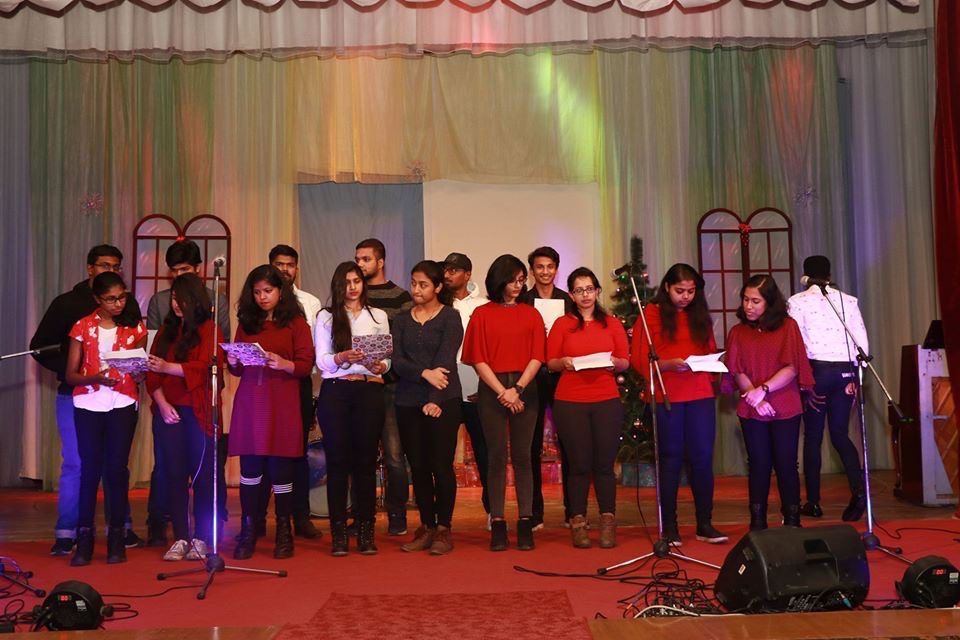 Well, what a fantastic Carol that was!
Again this year, the Apostolate of the Congregation of the Mission of the Vice Province – Sts Cyril & Methodius (IMCS), organized Two Carols for Foreign Catholic Students in Ukraine, with a view to bring them together to witness the Message of Christmas.
The INTERNATIONAL MOVEMENT OF CATHOLIC STUDENTS' (IMCS) Christmas carol was held on Saturday, January 4 in Ivano Frankivsk for the western region and Monday, January 6, in Sumy for the eastern region.  It was a splendid display of talents and creativity which made the Family of IMCS proud. The Ivano was delighted to welcome the New IMCS National Director, Rev. Fr. Leonid Kuklyshyn, CM, as their Chief Guest and Sumy to welcome the Founder Director, Rev. Fr. Vitaly Novak, CM as their Chief Guest. An audience and participants of over 600 foreign Catholic students got together to marvel at the Occasions.
For the Eastern region, Sumy hosted the Carol and the attendances were the cities namely Kharkov, Zaporozhye, Dnipro, Kiev, Poltava, Kirovograd and for the western region, Ivano Frankivsk hosted the Carol in which the attendances were the cities such as Ternopil, Chernivtsi and Uzhorod.
The guests were welcomed in Ivano by Rev. Fr. Vladislav, the Parish Priest of Ivano Frankivsk IMCS Community and in Sumy by Rev. Fr. Andrew, the Parish priest of Sumy IMCS Community. The audience enjoyed a range of beautiful renditions of various songs both in English and other native languages by the different cities. The cities also entertained the audience with dance and drama presentations by the African and Asian Students groups. Another highlight of the occasions was the cutting of the Christmas cake by the priests, city leaders and choir leaders. The events also acknowledged the choir leaders who are graduating this year for their dedication and service to the communities.
The presence of Spiritual Fathers from Various cities namely Rev. Fr. Peter Yanik, Uzhorod; Rev. Fr. Osita Iziga, Sumy; Rev. Fr. Gregory, Ternople and Rev. Fr. Sherin Dominic, the Asian Students' Coordinator of IMCS and Music Tutors and Religious Sisters blessed the event with their esteemed presence.
Many thanks to the Visitor of the Vice Province cum National Director of IMCS, Fr. Leonid Kuklyshyn, CM for putting on yet another exceptional Christmas concert!