How a Vincentian Parish Mission revived me and created New Year's Resolutions.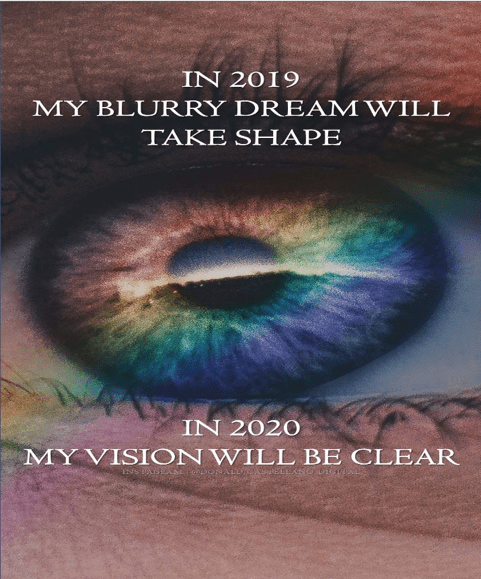 I had a jarring, sickening reminder that life is not always as we choose.  Returning a few weeks ago from my younger sister's memorial in Ireland, with a deliberately clear diary, all I wanted was to grieve in a space, manner and time of my choosing. I had plans to regenerate on my own terms.
The violation that greeted my family was intense. Our home had been invaded by burglars!  It has been left it in such a mess that we have spent the intervening weeks managing the aftermath.  The procession of forensic and detective police, the locksmiths, insurance assessors, glaziers, carpenters, plasterers, decorators all pleasantly and professionally putting the precious peaceful oasis of our family home back together again.  The robbed precious treasures, gifts from family past, are surpassed by the loss of inner harmony. Would we ever find that stolen calm again?

After a few days, I was called to our Parish Good News Group to discuss the upcoming Mill Hill, London Vincentian Parish Mission. I struggled with lack of energy, never considering the spiritual balm it might be!
Fr. Michael McCullough, CM our Parish Priest had recently left us with our clarified identity as a Community of Communities. We multicultural folk live in a Vincentian Family as independent or branch members; integral to this 4 million person movement.
One task I was asked to do by the new Parish Priest, Fr. Eugene Curran, CM, was to propose ways of Transmitting the charism to parishioners after Mission Week.  I gasped when I read the aim of the Mission; 'This Parish Mission aims to create a space and atmosphere where you experience peace and the loving presence of Jesus Christ.'  Would it?  Could it? I was thirsty for spiritual sustenance!
The Mission Team were certainly inviting; the promise of a varied programme during the week certainly attractive. I felt the first stirrings of HOPE in among my stupor.   For 5 days I surrendered myself to the daily rhythms of: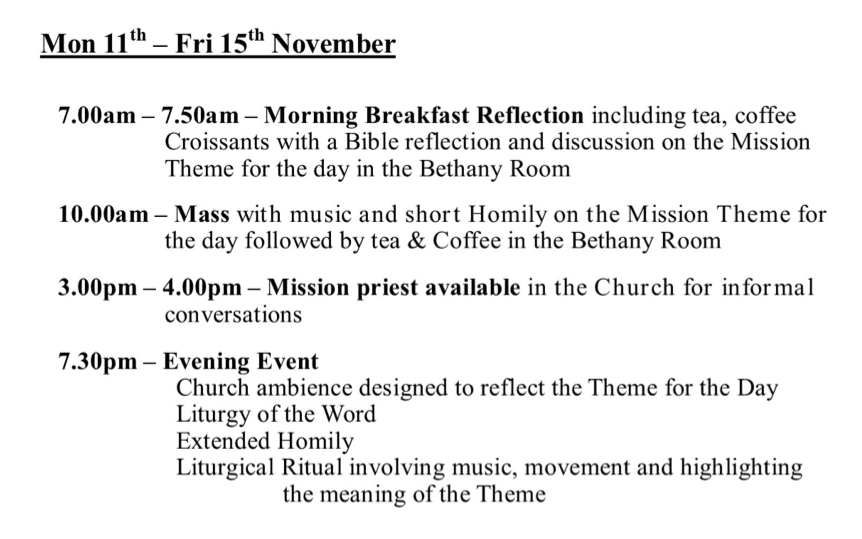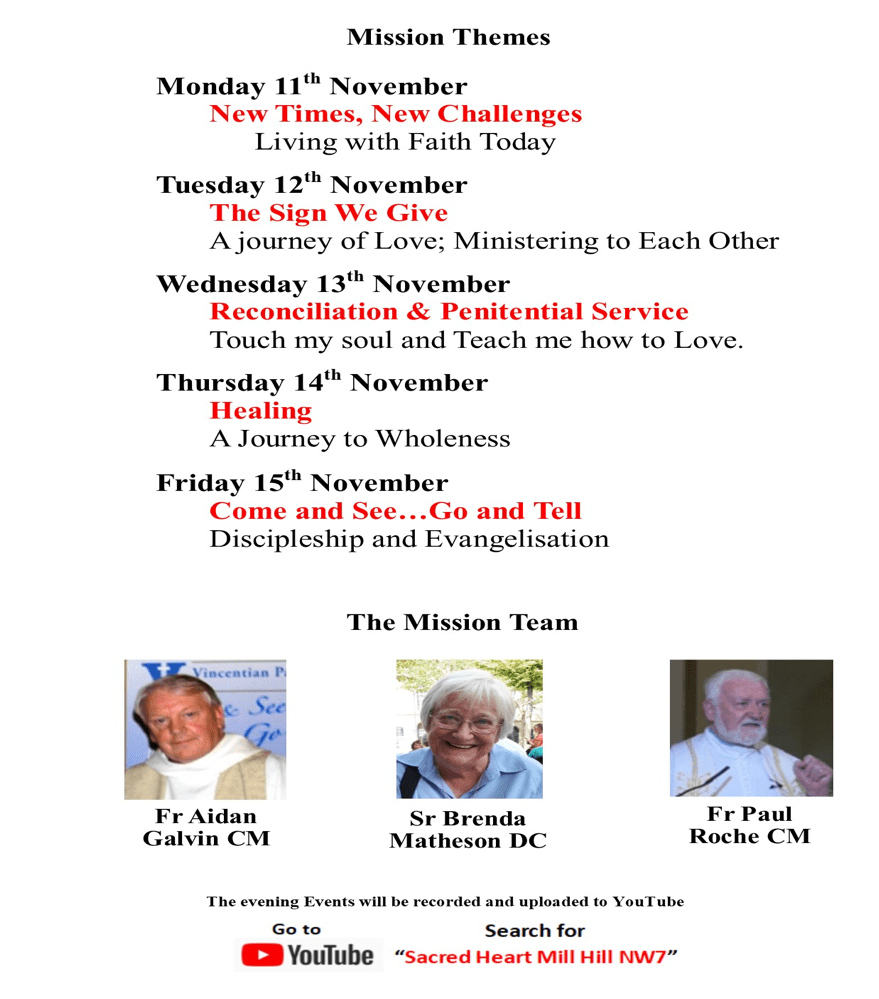 St. Vincent's School children came each morning to Mass and were taken for liturgical time with Sr. Brenda, DC. A whole cast of parishioners appeared on rotas of Eucharistic Ministers, refreshment preparation, Readers, Ushers, Cleaners, Florists, Choristers, Altar servers.  I came to almost every event, joined the evening choir and my heart soared singing to heaven!
As promised, the preachers were human, compassionate, riveting, promising, humorous, prophetic. The rhythms of the rituals were soothingly penetrating my melancholy, and the Reconciliation Service was exactly that!
The Journey to Wholeness began my renaissance, and as I experienced a rite of passage, I was almost ready to Minister and put in place some New Year resolutions for myself and the parish.
The Mission Themes were surely chosen for me alone.  In the depths of my despair, how did these lovely Vincentians know what I was experiencing and how I was feeling?  It was so healing.
The truth is that my suffering is Universal.  The whole universe has needs that cannot be met materially.  God who is Infinite Love, incarnates that love as the universe itself. Then, a mere 2,000 years ago, as Christians believe, God incarnated in personal form as Jesus of Nazareth.
What good is it to me if Mary gave birth to the Son of God, and I do not give birth to the Son of God in my own person and time and culture? . . . We are all meant to be mothers of God. — paraphrasing Meister Eckhart
'An incarnational universe is the only way we can reconcile our inner worlds with the outer one, unity with diversity, physical with spiritual, individual with corporate, and divine with human.'
So what has happened since?  Our renewed vigor in the Parish has meant we are RESOLVED to draw directly on our Vincentian charism of "prayer in action" to our Incarnational Christian purpose. A simple visual start is that each weekend two slides are projected onto the side wall of the altar which links the weekly Gospel reading with a Vincentian quote.  For example: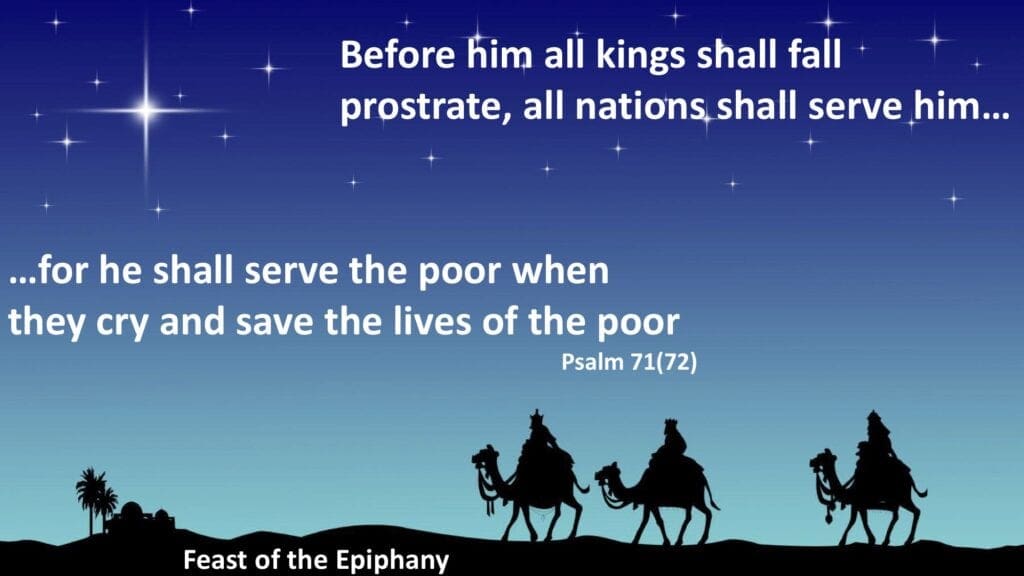 And what of my personal experience of spiritual transformation during a time of human frailty?  Maybe you like me could consider as your RESOLUTIONS, Richard Rohr, OFM quotes of Michael Lerner's list (1):
Plunging into some (carefully discerned) arena of activity
Allowing oneself to separate from familiar paths and ways of coping so that one can "not know"
Allowing oneself to experience confusion, fear, and disorientation without jumping into denial or easy resolution of conflict
Healing oneself and incorporating into one's being the knowledge learned as part of this process
Ending with a firm determination to liberate oneself and the world from suffering.
(1)Michael Lerner is an American rabbi of Beyt Tikkun Synagogue in Berkeley, a political activist, and the editor of Tikkun, a Jewish interfaith magazine. Rabbi Lerner imagines an education for the future where students would learn to engage in studies that would prepare them for spiritual transformation. In alignment with our consideration of "incarnation," one of the topics students would explore is "Meaning of Life.
HAPPY NEW YEAR TO YOU ALL!
MAY THE PEACE OF GOD THAT PASSES ALL UNDERSTANDING BE WITH YOU
Phillipines 4:7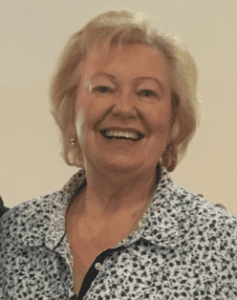 Dee Mansi is a lay member of AIC, Vincentian Collaboration Commission & Depaul Assembly; a retired School Principal, Schools Inspector and Leadership in Education Lecturer. Dee is Irish, living in London with her husband and son, she travels in Europe and beyond.
Opinions expressed are the author's own views.