Jesus speaks often about the Kingdom of his Father. One of his parables describing it ends up with the show-stopping line, "Some who are now first will be last.  Somewho are presently last will be first." How would you know who will be first and who the last? How would you go about deciding who does and doesn't get through that narrow gate? Jesus lays out a couple of scenarios:
Could it be eating in Jesus company? That is, being a member of a Eucharistic community, being a registered member of a Church and parish? Jesus says no, that of itself it doesn't do it. "Just because you ate and drank in my company and have Church membership doesn't mean you will come in."
Could it be knowing what Jesus teaches? That is, hearing what he says and appreciating the meaning of the different parts of the Apostles Creed? Again, the Lord says no, "Just because you heard me teaching in the streets and know the right answers doesn't of itself get you in the door."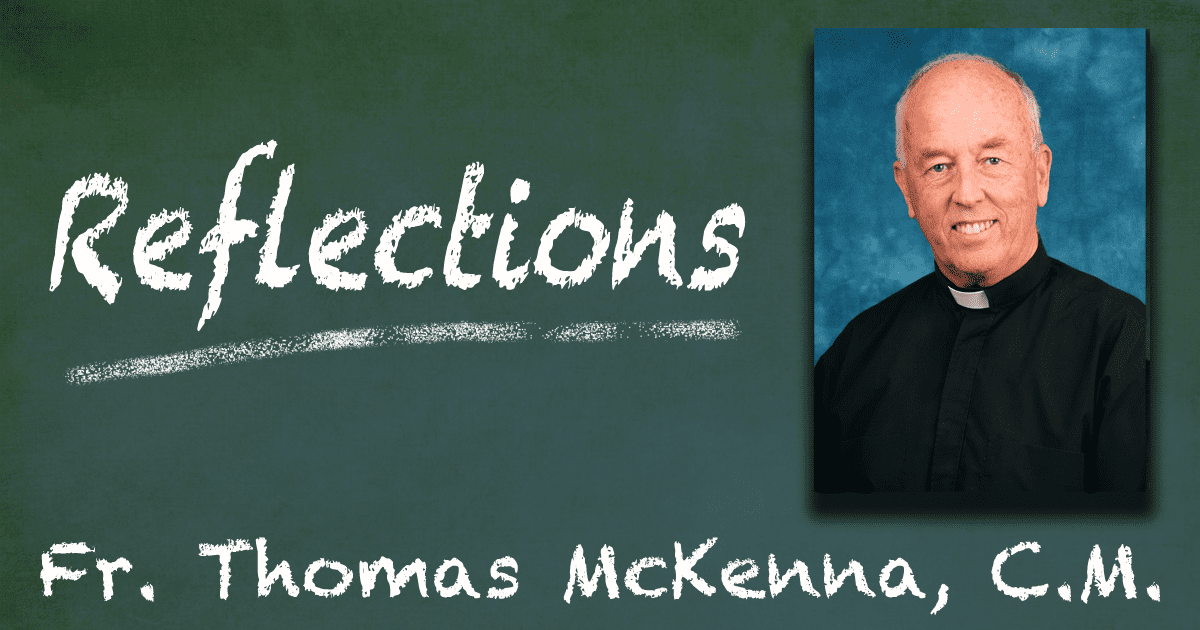 What is it then that The Lord says qualifies a person? Many things, but perhaps the clearest is living by His Beatitudes – be honest, give comfort to those who are suffering, take care of the poor, do things that would bring about a more just world. In other words, not just Church attendance nor ability to recite official teachings, but actions – doing the things that Jesus, God's person in the world, lives and models for us. The "what must be done" question, so central to the Vincentian spirit, surely applies here.
I want to zero in on one answer that shows up not only in the beatitudes but in Isaiah (Is 66:18-21). Through the words of that prophet God proclaims, "I come to gather nations of every language. In their coming together, you will see my Glory breaking out. In their getting along with one another, you will experience my presence and know what it is to walk in My world." And some lines later, "The offering I want you to put before me, the thing which will please me most, is that you bring people together, that you do whatever you can  to 'gather all your brothers and sisters from all the nations,' so that living in communion with one another, you'll step into my Kingdom."
A quick response to this task might be "Is that all? Are You kidding, God!  You want me to go out and try to break down some of those quarrelsome barriers that separate people from one another – things like race, and color, and religion, and family differences, and level of education, and wealth disparity, and neighborhoods?"
God's answer would indeed be Yes. Through His Son Jesus, God announces "My Kingdom is one where justice and dignity and welcome is given to everyone, no distinctions. And all this to be brought about by deeds, by action and not just intentions (these deeds of course strengthened with my strength). Anyone who takes even little steps to build a world like this gets a pass through that narrow gate."
There are other things like prayer and selflessness that keep that passageway open. "But anything you do to 'gather together all your sisters and brothers from all the nations,' brings with it entrance into the Kingdom of God."
A final thought. Jesus tells us that this Kingdom of his Father is coming, travelling toward us from the future. But he also insists it is here – certainly in his own life, death and resurrection, but also as it breaks through in efforts to build up unity. It's that combination of assured goal and present striving which opens our eyes to the glory of God as it comes to shine in our midst.