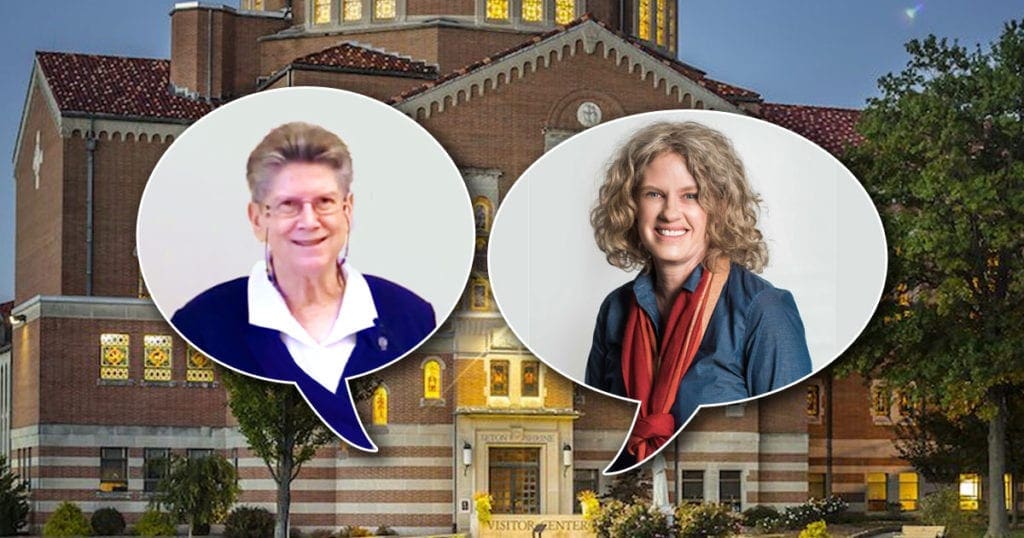 Hear about the Newest Biography of Elizabeth Ann Seton at 
Chat with an Author at The National Shrine of Saint Elizabeth Ann Seton
Emmitsburg, MD — Arizona State University professor and author Catherine O'Donnell will be at the Seton Shrine on Friday, September 14, to talk about her new book, Elizabeth Seton: American Saint. This event is part of the Shrine's Chat with an Author series. O'Donnell will be chatting with Sister Betty Ann McNeil, D.C., who has also extensively researched Elizabeth Ann Seton. September 14 is the 43rd anniversary of Elizabeth Ann Seton's canonization.
Elizabeth Ann Seton lived over 200 years ago. In 1803, she was just 29 years old, and found herself a bankrupt widow with five children to raise. Despite the challenging circumstances, she managed to care for her children and at the same time, founded the first community of sisters in the United States, as well as the first free Catholic school for girls in the United States.
There are a variety of books about Elizabeth Ann Seton, but O'Donnell's book is the first biography of Seton in over 65 years. O'Donnell spent quite a bit of time researching Seton's life, using correspondence, journals, reflections, and community records. O'Donnell's writing enriches readers' understanding of women's friendships and choices within the often-opaque world of early religious communities, and upends conventional wisdom about the ways Americans of different faiths competed and collaborated during the nation's earliest years. In her book, O'Donnell reveals Seton the person and shows how, with both pride and humility, she came to understand her own importance as Mother Seton in the years before her death in 1821.
"When the idea of this book came about, I wanted to make a valuable addition to the reference information already in existence about Elizabeth Seton," said O'Donnell. "Annabelle Melville wrote her biography of Elizabeth Seton back in 1951 using many letters and resources from the Daughters of Charity in Emmitsburg. I wanted to accurately portray Seton's background like Ms. Melville did, but also wanted to delve into her life from different contexts to provide a new perspective on the life she led."
O'Donnell continued, "I'm really looking forward to visiting the Shrine on September 14 and talking about the book. I have such a high regard for Sister Betty Ann and her wealth of knowledge about Elizabeth Seton. It will be so enjoyable to chat with her about my book, and engage with the audience to answer any questions they have about Elizabeth's life."
Mark your calendar to attend Chat with an Author at the Seton Shrine on Friday, September 14, at 3pm. The Chat is free, and no reservations are needed. It takes place in the theater that's inside the Shrine's Visitor Center. Attendees will have a chance to ask questions, and O'Donnell will sign books at the end of the event. Light refreshments will be served as well.
CONTACT: Helen A. Jahn, Marketing Manager, The National Shrine of Saint Elizabeth Ann Seton, Helen.Jahn@setonshrine.org
-###-
Elizabeth Ann Seton is the first native-born U.S. saint. The National Shrine of Saint Elizabeth Ann Seton promotes her life and legacy to inspire everyone. More than 200 years ago, she came to Emmitsburg as a bankrupt widow with five children, and went on to found the first free Catholic school for girls staffed by sisters in the U.S., and the first community of religious women established in the U.S. Today, her legacy includes several religious communities with thousands of sisters, who serve others through schools, social service centers and hospitals throughout the world. Elizabeth Ann Seton was canonized in 1975. Her remains are entombed at the National Shrine that bears her name.